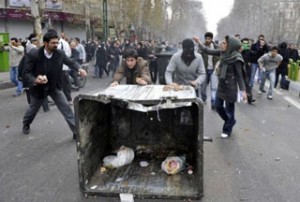 Iranian lawmakers have called for the "harshest punishment" for the protestors who disrespected the sanctities of Islam on Ashura day.
222 MPs issued a statement on Tuesday condemning those supporters of Mir-Hossein Mousavi and former president Mohammad Khatami who denigrated Islamic values on Ashura day, the Fars news agency reported.
The parliamentarians called on the "security and judicial bodies" to give the protestors the harshest punishment.
On Sunday, anti-government protestors took to the streets in some parts of Tehran.
President Mahmoud Ahmadinejad said on Tuesday that the United States and Israel were behind the protests on Ashura.
Ashura is the anniversary of the martyrdom of the grandson of Prophet Muhammad (PBUH), Imam Hussein (PBUH).