Iran
Iranian Navy Commander Downplays Dempsey's Remarks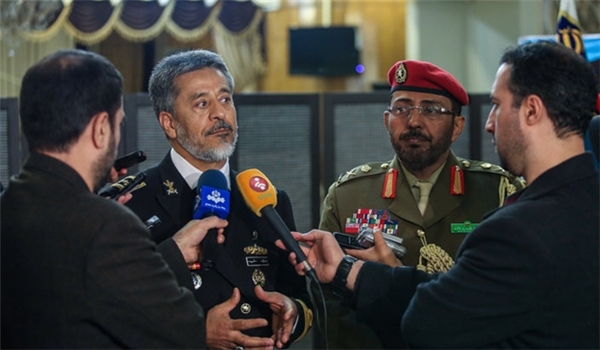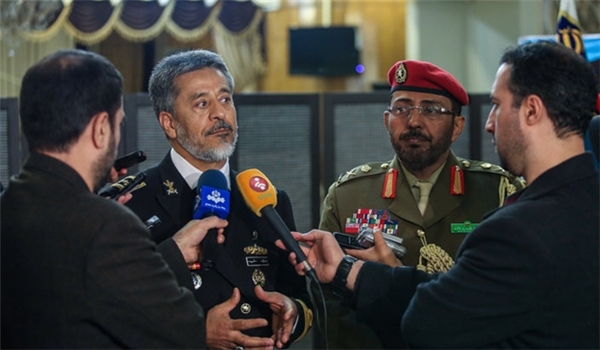 Navy Commander Rear Admiral Habibollah Sayyari played down the comments by Chairman of the US Joint Chiefs of Staff General Martin Dempsey against Iran, stressing Tehran's preparedness to give a crushing response to any aggressor.
"In don't know him at all and I don't want to know him either since I don't count on him; but what I say is that we do not attack other nations, while the (unique) progresses made by the Islamic Republic of Iran are clear to everyone," Sayyari told reporters after a meeting with Commander of Oman's National Defense College (NDC) Major General Salim bin Musallam Qatan in Tehran on Tuesday.
"Defending the national interests and borders are on our agenda and we are ready to defend our borders whenever and wherever necessary," he underlined.
Dempsey told Fox News last week that "if diplomacy fails and Iran moves ahead to acquire nuclear weapons … that will be an unacceptable risk to the US and the region".
"We have military capabilities in place, and we continue to keep them in readiness to, if asked, to eliminate — delay is actually the right phrase — Iran's nuclear program," he claimed.
Elsewhere in his remarks, Sayyari referred to the military cooperation with Oman, and said the two countries are due to stage joint relief and rescue drills in mid spring.
"The interactions and cooperation between Iran and Oman are all aimed at the establishment of durable security so that we make the world understand that Iran and Oman are able to establish security in the Sea of Oman and the Strait of Hormuz and there is no need for the presence of foreign parties."
Iran attaches great importance to the consolidation of its ties with the Persian Gulf littoral states, specially Oman, to maintain security in the region.
Iran and Oman signed a Memorandum of Understanding (MoU) in September 2013 to boost their mutual cooperation in the defense sector.
The MoU was signed by General Dehqan and Omani Minister Responsible for Defense Affairs Badr Bin Saud Bin Harib al-Busaidi here in Tehran.
During a meeting in Tehran at the time, Dehqan and Harib al-Busaidi explored avenues for bolstering and reinvigorating bilateral ties, specially in the defense fields.
The Iranian defense minister pointed to Iran-Oman defense ties as a model of constructive and effective interaction, and said, "We should try to spread this trend to other regional countries."
Harib al-Busaidi, for his part, also described Iran-Oman defense ties as very good and constructive, and said, "The two countries' leaders have always paid special heed to these relations and they have underlined strengthening of bilateral relations in line with the two countries' interests and wills."
The Omani minister also visited an exhibition of Iran's defense capabilities during his stay in Tehran.