Iran
Middle East
Iranian president opens major highway to west of Tehran
Iranian President Hassan Rouhani has opened a major highway project meant to ease traffic passing through the capital Tehran to the western provinces.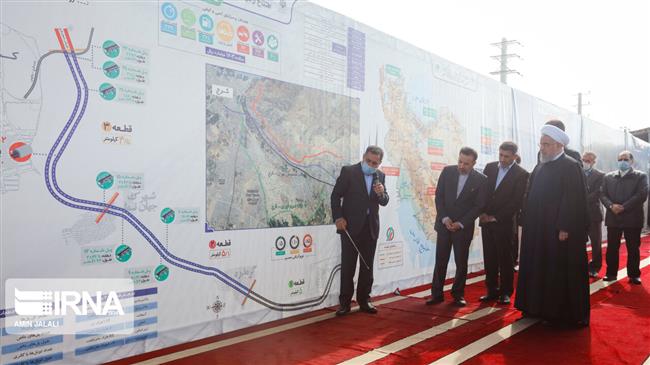 Rouhani on Tuesday opened sections two and three of the Hemmat-Karaj Highway, a 9.6-kilometer road that has cost the government around 15 trillion rials or $100 million to build.
The highway will ease traffic between the Iranian capital and Karaj, a metropolis of more than 1.5 million people located more than 30 kilometers west of Tehran.
The road in its full length, which includes a five-kilometer initial section that had been opened earlier this year, passes through mountainous regions near Tehran through 37 bridges and two tunnels.
The opening comes in days Rouhani's government is struggling to contain a surging coronavirus epidemic in Iran that has affected more than 16,000 people.
Iran's transportation minister Mohammad Eslami said during an opening ceremony for the road that the government had paid for more than 70 percent of the costs of the project.
Iran to expand rural road network by 2,000 km till March: MinisterIran says rural road network in the country will expand by 2,000 kilometers until late March.
Eslami said the opening was a sign the government was intent on finishing long overdue infrastructure project even at the time of the coronavirus outbreak in Iran.
Local government officials in Alborz, the province surrounding Karaj, said that the new road would ease traffic arriving in the province by nearly 40 percent.
Finishing transportation projects has become a major challenge for Rouhani's government as his administration grapples with a series of unprecedented American sanctions that has drained the country's finances.
Last month, Rouhani opened a key section of the Tehran-Shomal Highway, a project worth nearly $1 billion which is meant to ease traffic passing from Tehran through Karaj and into the cities on the Caspian Sea in the North.