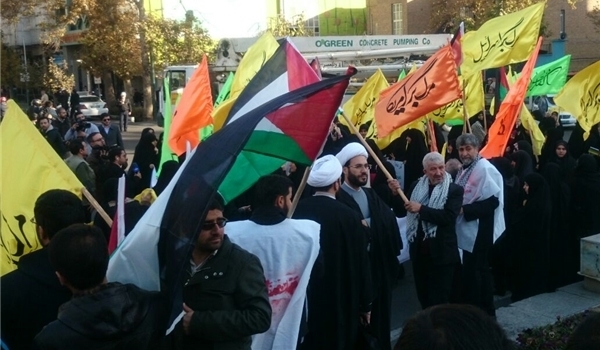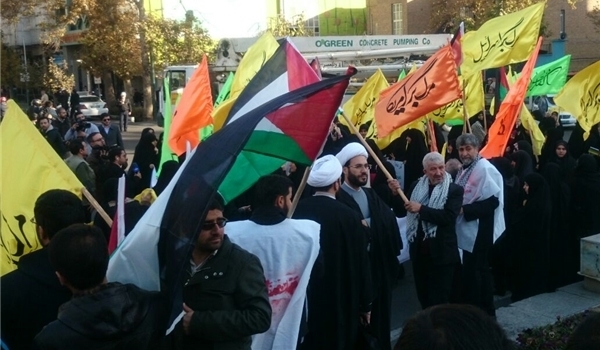 A mass demonstration took place in the Palestine street of Tehran on Monday, as protesters set fire to the US and Israeli flags.
The Iranian university students and people staged a demonstration in Tehran protesting US President Donald Trump's recognition of Jerusalem as the capital of Israel.
The participants carried flags of Palestine and images of Commander of the Quds Force of Iran's Islamic Revolution Guards Corps (IRGC) Major General Qassem Soleimani and chanted slogans decrying the decision of Trump to move the US embassy from Tel Aviv to Jerusalem.
They also chanted "Death to the US" and "Death to Israel" slogans and carried banners with the same slogans during the rally.
Addressing the protestors, Islamic Jihad Movement's Representative in Tehran Nasser Abu Sharif condemned the US decision to recognize Jerusalem as Israel's capital, and called for the Islamic Ummah's unity against the move.
"If people want to give a strong response to Trump's measure against Quds, the only way is unity among the Islamic countries," he said.
"Palestine has started an Intifada and God willing, it will succeed and of course, it needs all-out support by the Islamic Ummah," Abu Sharif said.
At the end of the rally, the representative of the Iranian Students Union read a statement to condemn the US administration for its recent decision over al-Quds.
The rally was held after Trump, in his capacity as US president, on Wednesday recognized Jerusalem as the capital of Israel and signed a document to move the US embassy from Tel Aviv to the heavily disputed city, sparking violently negative reactions around the world. The sharpest rebukes, however, were sounded in the Middle East.
Mass protests against Trump's controversial action have occurred in many countries around the globe.