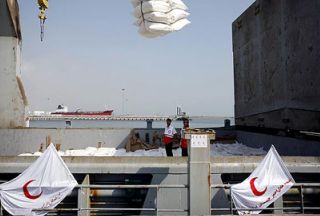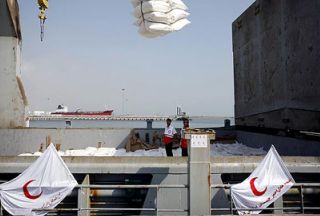 The Iranian Red Crescent Society says it is investigating options for sending aid to the Gaza Strip, in light of further Israeli and Egyptian restrictions on aid ships.
"Following further Israeli restrictions on the transfer of aid to Gaza and the prevention of issuing a permit to allow the passage of the Iranian ship through the Suez Canal, the departure of the ship caring Red Crescent aid has been postponed," the Red Crescent said in a Sunday statement.
The humanitarian society added that the Iranian aid ship, docked at the southern port of Bandar Abbas, is ready to set sail for the blockaded coastal sliver after loading aid supplies.
The Red Crescent Society plans to examine other means of transporting aid to the impoverished Palestinian territory, through coordination with international bodies and regional nations, the statement added.
The Red Crescent had initially planned to send two aid ships to the Palestinian territory this month. The current aid ship, Children of Gaza, was to carry 1,100 tons of aid, including medical and food supplies as well as basic appliances.
Tehran's decision to send aid came after Israel's deadly attack last month on the Turkish flagship of a Gaza-bound aid convoy seeking to pierce the three-year blockade. During the assault Israeli navy commandos shot dead 9 activists.
The attack was internationally condemned, but Israel defied calls for an end to the blockade and has threatened that it will continue to stop any other ships seeking to enter the territory.
Recently, Tel Aviv said it plans to ease its iron grip on the territory by allowing in aid through land channels, where the supplies are vigorously searched.
Last week, Hossein Sheikholeslam, secretary general of the International Conference for the Support of the "Palestinian" Intifada, a penal set up by the Iranian Parliament, said the plans for sending had been scrapped.
However, Iranian Deputy Foreign Minister Mohammad Reza Sheibani dismissed earlier reports on Saturday, confirming that NGO aid ships were coordinating plans with other international bodies.