Iran
Iranian Speaker: Many Differences Still Remain in Talks with Powers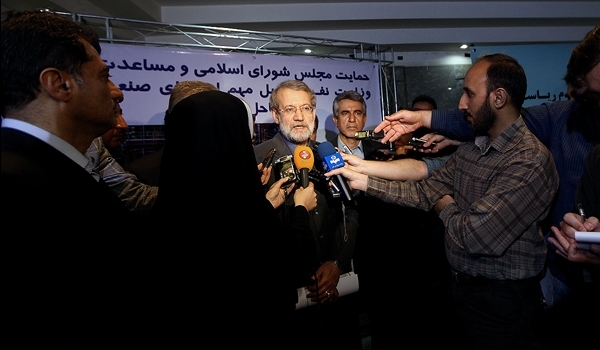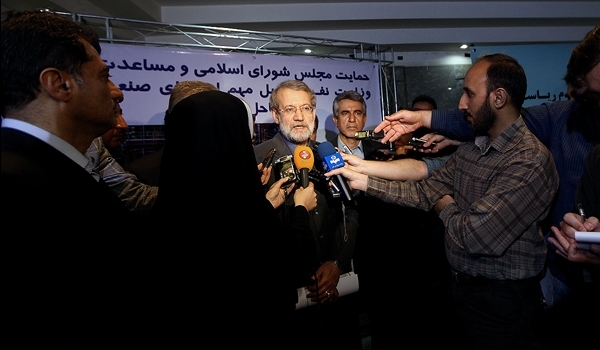 Iranian Parliament Speaker Ali Larijani described the last ditch efforts by Tehran and the world powers to reach an agreement as sensitive, and said many differences are still there before a final nuclear deal could be completely drafted.
"If the agreement will be made within the frameworks specified by the Islamic Republic, it will be useful for the country at this stage, but there are still differences in certain parts which should be settled during the negotiations," Larijani told reporters in Tehran on Sunday.
"There are always many differences at the stage in which details are discussed; that is to say, the two sides strive to win the lion share for themselves at this stage," he added.
Larijani stressed that the Iranian negotiating team should go past this stage with patience and high preciseness.
In relevant remarks on Saturday, Iran's Deputy Foreign Minister Seyed Abbas Araqchi said that the representatives of Iran and the world powers are having serious debates over the wording of the draft nuclear deal, stating that Tehran still lacks trust in the other side.
"Distrust underlies these negotiations, and this is a reality. We don't trust the other side at all and the other side doesn't either and therefore, all measures in the agreement will be in a way that if any side feels that the other side is violating its undertakings, it can return and implement what had existed before the deal," Araqchi said in an interview with the state TV.
Elaborating on the draft text of the final deal, he said that the main part of the text will have about 20 pages with 5 annexes of about 40 to 50 pages.
The annexes are related to sanctions, technical issues, peaceful nuclear cooperation with Iran, a joint commission to be set up by both sides and executive affairs, Araqchi said.
Noting that the documents should be studied and debated word by word and sometimes these words are a source of difference, he said, "Different parts of this text and its annexes are still in parentheses. Some of them are a source of difference, yet this task is moving ahead, although very slowly."
Also yesterday, Iranian Foreign Minister Mohammad Javad Zarif underlined that the world powers' attempts to breach the Lausanne statement would bear no results, adding that their excessive demands would make reaching a final deal impossible.
"The frameworks that we reached as a solution in Lausanne are fully clear and I believe that attempts to breach those frameworks by the western side are fruitless and only kill time," Zarif told FNA.
"If they want to raise excessive demands, they will not reach results but if they want to work based on the agreed basis, then there will be a high possibility for attaining results," he said, adding that the Iranian people and negotiators have proved that they will not surrender to the pressures and will stand against excessive demands.
Asked about the possibility of extending the nuclear negotiations with the Group 5+1 (the US, Russia, China, Britain and France plus Germany), Zarif said, "We have always said that the content is important to us and we don't confine ourselves to time and aren't concerned about it."
He underscored that all efforts are focused on reaching an agreement before the July 1 deadline, but this is not a "holy date" and can be extended.
After nine days of hard work in Lausanne, Switzerland, Iran and the G5+1 reached an understanding on April 2 which laid the ground for them to start drafting the final nuclear deal over Tehran's nuclear energy program ahead of a July 1 deadline.
Reading out a joint statement at a press conference with EU foreign policy chief Federica Mogherini in Lausanne on April 2, Zarif said according to the agreement, all the US, EU and UN Security Council sanctions against Iran would be lifted under the final deal.
Talks are underway among the delegations of the seven nations to draft the final deal.
Also on Sunday, Zarif who held a meeting with his US counterpart John Kerry in Geneva last Saturday said that differences over the contents of a final nuclear deal are still in place.
"There are still numerous differences, and efforts will be made in various meetings so that these differences will be reduced to minimum levels and they will be studied in the next ministerial meeting," Zarif told the state-run TV.
He said the "differences are mainly those that have been discussed publicly".
Zarif also pointed to the West's demands to inspect Iran's military sites, and said the country's views have earlier been raised by the Iranian officials, including Supreme Leader of the Islamic Revolution Ayatollah Seyed Ali Khamenei, and a decision has been made to study other solutions to resolve this problem