Iran
Iranian Sunni Cleric: Clerics and political officials should team up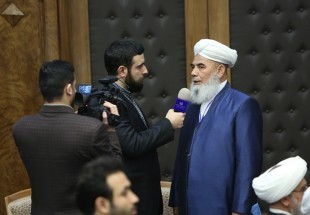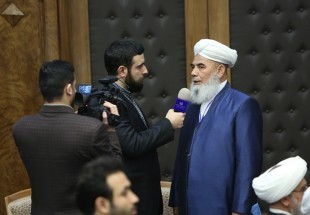 President of Religious seminary in North Khorasn Akhound Galdi Kamal in an exclusive interview with Taqrib News Agency (TNA) on the sideline of the second international conference on the Takfiri phenomenon entitled "Takfiri Threats in Today's World," placed emphasis on the necessity of conversion and unity among religious clerics and political faces.
Beckoned to the achievements made by the Summit and its positive bearing, the religious cleric extended his sincere hope that the set objectives in the event to be forwarded and advanced by the cooperation of religious clerics.
"If religious cleric and political officials team up, then they can show the real divine of Islam to the World," highlighted President of Religious seminary in North Khorasn Akhound adding though such way the World can be preserved from hatched seditions and crises.
"Referring to the right sources introducing the divine religion of Islam should be thought to the youth," pointed out Akhound Galdi Kamal urging religious jurisprudents to make a move and show the right path to the youth.
The international conference on 'Fight against Takfirism' wound up on Thursday in Qom in the presence of a group of Shia and Sunni ulema from 25 foreign countries along with some domestic scientific and cultural figures.
A number of senior Ulema such as Ayatollah Makarem Shirazi and Jafar Sobhani and Supreme Leader's bureau chief Ayatollah Mohammad Mohammadi Golpaygani, Head of the Strategic Center at the Expediency Council Ali Akbar Velayati along with some other clerics attended the meeting.
The final statement read that Muslim world is now experiencing a very tough time and extremist and Takfiri groups are the root cause of carnage, violence, vandalism and it is among grave responsibilities of Ulema to condemn and deal with such phenomena.