Syria
Iran
Middle East
Iranian, Syrian FMs Discuss Economic Cooperation, Regional Issues
Iranian Foreign Minister Hossein Amir Abdollahian and his Syrian counterpart Faisal Mikdad in a phone conversation conferred on bilateral ties, economic cooperation and the latest regional developments.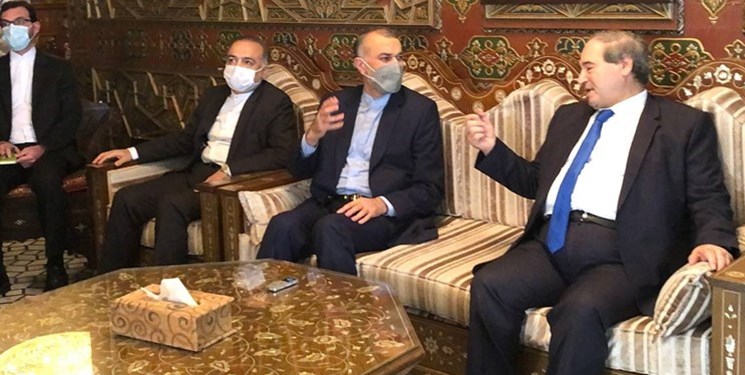 During the phone talks, Amir Abdollahian and Mikdad reviewed certain regional issues as well as the latest developments in bilateral relations, economic cooperation and exchange of tourists and pilgrims between Iran and Syria.
Mikdad, for his part, expressed satisfaction with the recovery and health conditions of his Iranian counterpart after being infected with coronavirus.
He conveyed the warm greetings of Syrian President Bashar al-Assad to President of the Islamic Republic of Iran Seyed Ebrahim Rayeesi.
Amir Abdollahian invited his Syrian counterpart to visit Tehran.
In October, Amir Abdollahian had traveled to Damascus, During the trip, he underlined that his country and Syria were firmly broadening strategic relations in different areas.
"Iran's relations with Syria are strategic and we are trying to expand our cooperation with this country in all areas. Syria is developing and we will stand by the country again firmly as we stood by it during the era of fighting against terrorism," Amir Abdollahian said upon his arrival in Damascus.
The Iranian foreign minister reiterated that important agreements have been reached on the comprehensive development of Iran-Syria relations in recent weeks, and said, "Our bilateral agreements will be implemented quickly and the two nations will benefit from it."