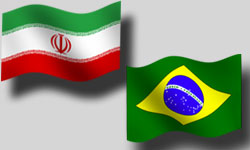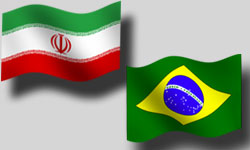 An Iranian marketing and trade delegation is slated to visit Brazil early in December, an Iranian official announced on Saturday
"The Iran-Brazil friendship association in coordination with the Trade Promotion Organization (of Iran) will dispatch a marketing and trade delegation to Brazil on December 5," Head of Iran-Brazil Friendship Association Mir Qassem Momeni told FNA.
He added that the visit will be aimed at a study of investment and economic opportunities for the two countries.
The delegation is scheduled to meet with Sao Paulo's Chamber of Commerce as well as Brazilian traders and businessmen in a bid to attract Brazilian investors to Iran and develop Tehran's exports to the South American country, the official noted.
Momeni also pointed out that based on a proposal by association members, Head of the TPO will lead the Iranian delegation in the visit to Brazil.
Brazil with a population of over 200 million people is a good market for Iranian products. In recent years the biggest part of Iran's exports to the country included petrochemical and oil products.