Ashura
Days of Allah
Iran
Iraq
Middle East
Iranian VP Commends Iraq for Hosting Arbaeen Pilgrims
First Vice-President of Iran Eshaq Jahangiri expressed gratitude to Iraq for hosting more than 3 million Iranian pilgrims during the Arbaeen season, describing the huge religious procession as a display of Muslim unity.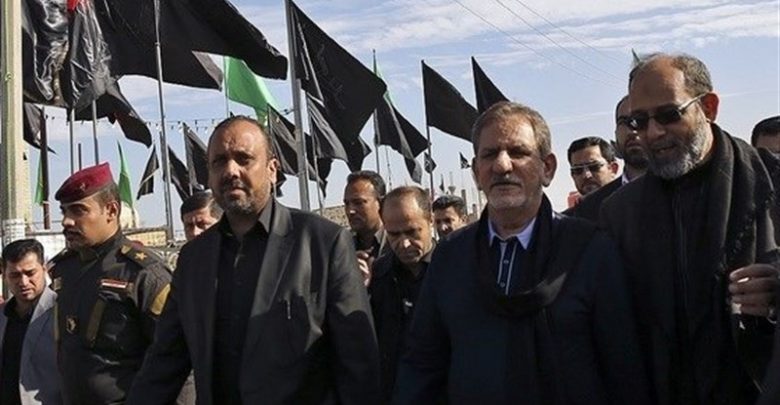 In a meeting with Governor of Najaf Luay al-Yassiry, the Iranian vice president praised Iraqi officials and religious authorities for hosting more than 3 million Iranian pilgrims in this year's Arbaeen season.
Jahangiri also thanked the Iraqi government and people for their hospitality, considering the flood of pilgrims visiting Iraq and the infrastructure shortages.
Highlighting the role of Arbaeen procession in strengthening the bonds between Iran and Iraq, he added, "The presence of millions of devotees of Imam Hussein (AS) from different denominations, religions and countries in a short time span (in Iraq) is a display of the Islamic world's friendship, solidarity and unity."
The Iraqi governor, for his part, said the Arab country is proud to host the Arbaeen pilgrims, particularly travelers from Iran, adding that the religious ceremony has played a big role in strengthening the ties between Baghdad and Tehran.
Arbaeen, one of the largest religious gatherings in the world, comes 40 days after Ashura, the martyrdom anniversary of the third Shiite Imam.
Each year, a huge crowd of Shiites flock to the Iraqi city of Karbala, where the holy shrine of Imam Hussein (AS) is located, to perform mourning rites.
Iranian Interior Minister Abdolreza Rahmani Fazli has announced that around 3.5 million Iranians have travelled to Iraq during this year's Arbaeen season.