Iran
Middle East
Qasem Suleimani
Iranians in town of Rey rally in memory of Gen. Soleimani
This gathering in Iran's town of Shahre-Rey is a tribute to a man who is known as the father of national security in Iran; Lieutenant General Qassem Soleimani.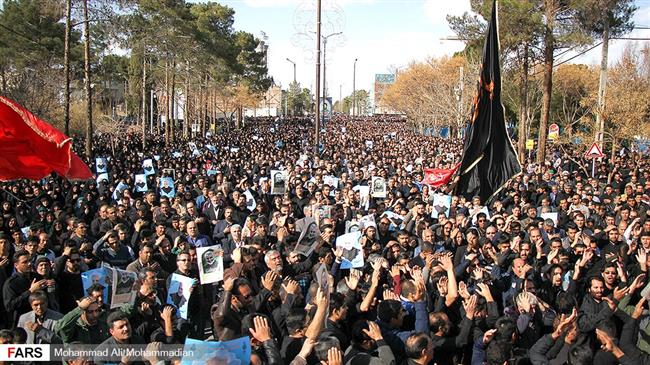 A few days ahead of the second anniversary of his assassination, Iranian people and senior officials have gathered to commemorate him and mourn his loss.
General Soleimani was the commander of IRGC's Quds Force, which is in charge of conducting overseas operations. He, together with the commander of Iraq's Popular Mobilization Units, Abu-Mahdi al-Mohandis, was killed in 2020 in a US air raid outside Baghdad International Airport on a direct order from then-US President Donald Trump.
General Soleimani holds a reputation for dislodging Daesh terrorists in Iraq in 2017. He also led major operations in Syria that resulted in the recapturing of key areas from Daesh. These made him known as the nemesis of the terrorists in the region.
In 2020, millions of people in Iraq and Iran took part in his funeral ceremony to bid him farewell and pay tribute to him.
Two years into the incident, Iranians still mourn the loss of General Soleimani. They say they will not forget his endeavors in the fight against terrorism; something which earned him the title of a national hero and the guarantor of regional security.