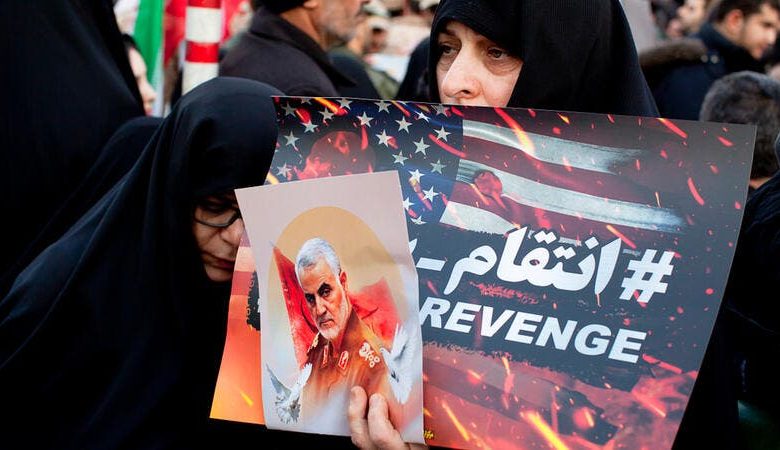 Thousands of young Iranian women gathered in the capital Tehran on Saturday for the ceremony, dubbed "the Girls of Haj Qassem".
It took place at the 12000-seat arena of Azadi Stadium, with the participants renewing their allegiance to the ideals of the martyred commander.
General Soleimani, the former commander of the Quds Force of Iran's Islamic Revolution Guards Corps (IRGC), was assassinated along with his Iraqi trenchmate Abu Mahdi al-Muhandis, the deputy head of the Popular Mobilization Units, in a US drone strike ordered by ex-president Donald Trump near Baghdad International Airport on January 3, 2020.
Both commanders were highly popular because of the key role they played in eliminating the Daesh terrorist group in the region, particularly in Iraq and Syria.
In Iraq, people were taking part in a million-strong march in the capital Baghdad to pay tribute to General Soleimani and Muhandis. The rally began at 01:00 p.m. local time (1000 GMT).
Syrian MP: Gen. Soleimani brought security to Christian areas
Syrian lawmaker Lusi Iskanian praised General Soleimani for helping Christians in the Arab country in the face of Daesh, saying he created security in Christian areas.
"We witnessed the role of Qassem Soleimani in the liberation of Saidnaya and Maaloula, whose residents were mostly Christian," she added.
"Various narratives and stories are said by people and religious scholars about the character of Qassem Soleimani and the measures that created security in their cities and churches."
Iskanian further said that the Iranian commander's achievements in Syria were "numerous and that (under his command) the resistance forces were advancing against terrorists in Damascus and its suburbs, as well as Homs, Hama, Aleppo and Dayr al-Zawr."
"The difference between Qassem Soleimani and other martyrs is that his goal in liberating the region was obvious and that he showed great humility," she noted.