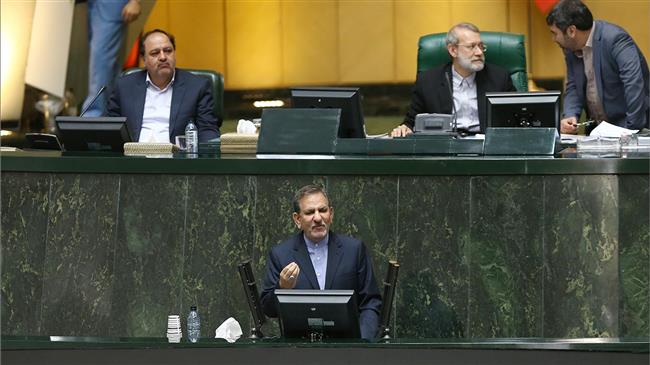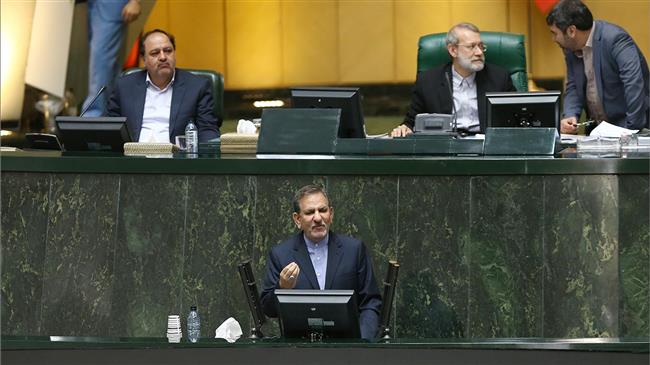 First Vice President Es'haq Jahangiri has called on all Iranians to close ranks and counter a "serious economic war" launched by the United States against the Islamic Republic. 
"The Americans, in their opinion, have begun a serious war against our country, thinking they can succeed in crippling our economy so that Iran, in the words of the US president, is forced back to the negotiating table," Jahangiri said Sunday.
US President Donald Trump has left a landmark nuclear deal with Iran and called for fresh negotiations to include the Islamic Republic's missile capabilities and its role in the Middle East, which Tehran has rejected.
"Under the circumstances, all state officials including the government, Majlis, the elite and political currents and all Iranian people are required to unite against the big plot which has started and help pass this stage with dignity and fulfillment."
Jahangiri said one of the areas "on the enemy's agenda to strike" is Iran's transportation sector, where aviation, shipping and indemnity insurance are the first to come under sanctions when the US reimposes them on the country.
Last month, Trump announced Washington's exit from the 2015 nuclear deal, officially called the Joint Comprehensive Plan of Action (JCPOA), and vowed to impose "the highest level" of economic bans on the Islamic Republic.
US Secretary of State Mike Pompeo also threatened Iran with the "strongest sanctions in history" if it did not comply with a list of steep demands, including ending uranium enrichment.
Jahangiri further underlined the need for swift action and decision-making in the the industry and commerce sectors because they deal with the people's immediate needs.
Under the JCPOA, Tehran agreed to put limits on certain aspects of its nuclear energy program in exchange for the lifting of all nuclear-related sanctions.
A senior Iranian nuclear negotiator says Tehran expects the EU to put forward by end of June its package of proposals to save the JCPOA.
Iran has said it will remain committed to the deal for the time being, pending negotiations with other signatories to the JCPOA to see if Tehran's interests are protected under an accord without the US.
Iranian Deputy Foreign Minister Abbas Araqchi said on Saturday that the Islamic Republic expects the European Union to put forward by the end of June its package of proposals to save the multilateral agreement.