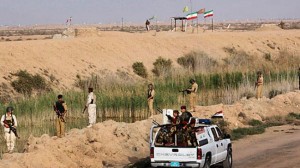 The Iranian Interior Ministry says there has been no security problem along Iran's border with Iraq since the Arab country's recent plunge into crisis by Takfiri terrorism.
"There is no notable problem along our common border with Iraq," Iran's Interior Ministry spokesman, Hossein-Ali Amiri, said in a Monday interview.
"However, the necessary measures have been adopted by the Interior Ministry and border police," he added.
Iran's Supreme National Security Council will discuss this issue in a forthcoming session, Amiri added.
Iran has stressed that it will not be militarily involved in the ongoing developments in Iraq but pledged to provide other forms of assistance, including consultation, to the Iraqi army, if needed.
On June 10, the terrorist Islamic State of Iraq and the Levant (ISIL) took control of the city of Mosul in Nineveh Province, which was followed by the fall of Tikrit, located 140 kilometers (87 miles) northwest of the capital, Baghdad.
According to Geneva-based International Organization for Migration, the seizure of Mosul forced "over 500,000 people in and around" the city to flee.
Clashes continue between Iraqi soldiers and the ISIL Takfiri militants, who have vowed to march toward the capital, Baghdad.
Iraqi Prime Minister Nouri al-Maliki said on June 10 that his country is involved in a "war against terrorism," stressing that Baghdad "will never permit Mosul and Nineveh to remain under the shadow of terror and the terrorists."