Iran
Middle East
Iran's defense systems fully indigenized: IRGC cmdr.
A senior Iranian commander says the Islamic Republic's defensive systems and equipment boast a thoroughly indigenous production process, noting that the military hardware's quality has turned the country into one of the world's defense technology leaders.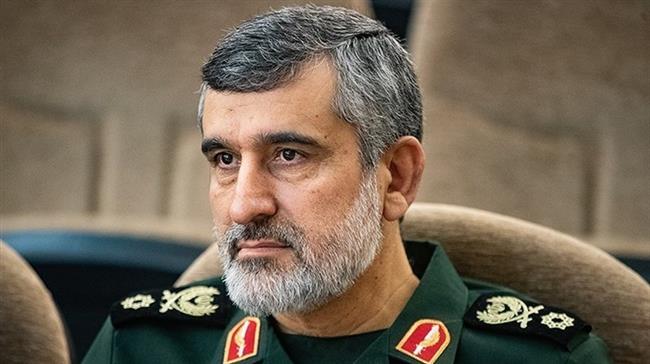 Across many areas, the world's state-of-the-art technology has been indigenized by the agency of Iran's capable defensive technologists, said the commander of the Aerospace Division of the Islamic Revolution Guards Corps (IRGC), General Amir-Ali Hajizadeh, Tasnim News Agency reported on Thursday.
He was addressing a plenary meeting of the commanders and senior officers of the IRGC's Khatam al-Anbiya Construction Headquarters, an engineering hub.
Had it not been for the Headquarter's now-30-year-old services, sanctions employed against the country would have come to inflict considerable damage on its various industrial, energy, and economic sectors, he said.
"Thanks to the diligence exercised at the Headquarters, not only have many of the oppressive sanctions been rendered ineffective, but also they have been turned into an opportunity for growth and fruition of the country's domestic capability and capacity," the commander hailed.
The Headquarters has been contributing heavily to Iran's industrial and economic spheres, including by playing a significant role in its efforts to exploit its oil wealth.
In February, the country opened the third phase of its Persian Gulf Star Refinery, where the Headquarters has been contributing to construction efforts. The development marked the country's self-sufficiency in gasoline production with a total output standing at more than 100 million liters per day.
Iran's new refinery opening is a poke in US eyeIran is now a gasoline exporter after opening the third phase of what is billed as the Middle East
Ever since the victory of Iran's Islamic Revolution in 1979, the United States and its allies have been taking the country under indiscriminate economic and trade sanctions.
The US lifted the nuclear-related ones among the bans after conclusion of a multi-national nuclear accord between Iran and world powers in 2015. Last year, however, it unilaterally and illegally left the deal and returned the sanctions.
US nuclear sanctions targeting Iran's knowledge, IRGC chief commander saysThe chief commander of Iran's elite defense forces says sanctions are just a pretext to block Iran's progress.
Tehran has denounced Washington's violations as "economic terrorism," but has vowed to defy the measures, continue to harvest and sell crude, and not join any new negotiation unless the bans are removed.