Afghanistan
Asia-Pacific
Iran
Middle East
Iran's FM, Afghan President Review Peace Trend in Afghanistan
Iranian Foreign Minister Mohammad Javad Zarif and Afghan President Ashraf Ghani in a meeting in Tajikistan exchanged views on bilateral ties and the peace process in Afghanistan.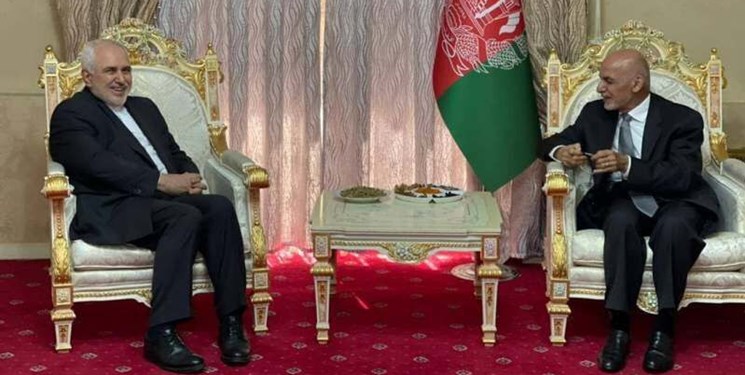 During the meeting held on the sidelines of Heart of Asia Conference in Dushanbe on Tuesday, Zarif and President Ghani explored avenues to further broaden mutual cooperation.
During the meeting, the two sides also discussed the developments in the peace process in Afghanistan.
President Ghani, meantime, said that Afghanistan is ready to expand relations with Iran in every field and also hold a joint economic cooperation commission.
He also thanked Iran for its stance on the developments in Afghanistan.
In a relevant development earlier on Tuesday, Zarif and his Afghan counterpart Hanif Atmar in a meeting in Dushanbe underlined the need to expand bilateral relations in different fields.
Zarif and Atmar explored avenues for further bolstering and reinvigorating mutual cooperation.
During the meeting Zarif blasted the efforts made by some countries and movements to harm Iran-Afghanistan relations.
The Iranian foreign minister, meantime, pointed to lifting consular limitations for Afghan nationals, and said that these measures are aimed at fighting human trafficking gangs.
He also called for efforts to clarify Afghan nationals' presence in Iran.
Atmar, for his part, appreciated Iran's assistance in containing fire in Afghan customs at common borders.
He described Iran as the closest friend for Afghanistan and called for developing constructive cooperation and consultations in economic and political fields.
Atmar also voiced Afghanistan's readiness for holding joint commission meeting within weeks.
The first Asian Heart Conference, also known as the Istanbul Process, was held in Istanbul in 2011 with the participation of foreign ministers from 14 countries to expand regional cooperation towards Afghanistan in 2011 with the focus of Afghanistan and Turkey's efforts.
China, India, Afghanistan, Turkey, Azerbaijan, Iran, Kazakhstan, Kyrgyzstan, Pakistan, Russia, Saudi Arabia, Tajikistan, Turkmenistan and the United Arab Emirates were among the countries whose representatives attended the first Asia Heart Trends Conference.
The Asia Heart Conference has so far held eight meetings in Turkey (2011, 2019), Afghanistan (2012), Kyrgyzstan (2013), China (2014), Pakistan (2015), India (2016), and Azerbaijan (2017).