Economy
Iran's gas production hits 120 bn tons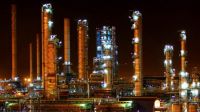 The Islamic Republic of Iran's gas production has hit 120 billion cubic tons since the beginning of the current Iranian calendar year (started March 20, 2012).
According to Press TV, the dispatching director of the National Iranian Gas Company (NIGC), Hassan Montazer Torbati, made the announcement on Sunday.
Torbati also noted that there has been a rise in daily gas consumption in the country due to cold weather and added that "management of gas consumption by people will help the NIGC provide better services to consumers."
Iran, which sits on the world's second largest natural gas reserves after Russia, has been trying to enhance its gas production by increasing foreign and domestic investment, especially in its South Pars Gas Field.
It is part of a joint gas field shared with Qatar, covering an area of 9,700 square kilometers, 3,700 square kilometers of which are in Iran's territorial waters in the Persian Gulf and known as the South Pars Gas Field. The remaining 6,000 square kilometers, the North Dome Gas Field, is situated in Qatar's territorial waters.