Europe
European Awakening
Human Rights
Iran's Human Rights Official: Muslims in Sweden Feeling Like Prison
Iran's Judiciary Deputy Chief and Secretary-General of Iran's Human Rights Headquarters Kazzem Qaribabadi condemned blasphemy of the holy Quran in Sweden, saying that the European country has turned into a prison for Muslims.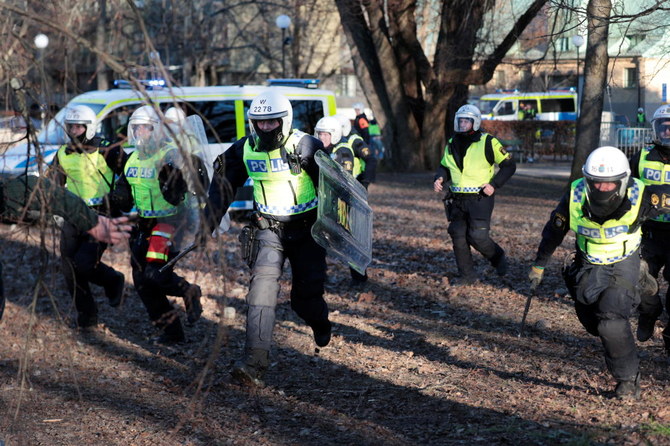 "Sacrilege to religious sanctities is under no circumstances whatsoever acceptable," Qaribabadi wrote on his twitter page on Monday.
He added that as religious intolerance rages across Europe "Sweden is morphing into a prison for Muslims with the support of the government".
"Seems they've missed Medieval Inquisition!" Qaribabadi said.
Rasmus Paludan, the Danish leader of Sweden's far-right Stram Kurs (Hard Line) party tried to burn a copy of the Qur'an in a heavily-populated Muslim area on Saturday.
Paludan, accompanied by police, went to an open public space in the southern Swedish city of Linkoping and reportedly placed the Muslim holy book down and tried to set it on fire while ignoring protests from onlookers.
On Sunday, Iranian Foreign Ministry Spokesman Saeed Khatibzadeh denounced the desecration of the Holy Qur'an by the Swedish far-right group, saying the blasphemous act is a clear example of hatemongering and in contravention of speech freedom.
Khatibzadeh said Iran "strongly condemns the burning of the Holy Qur'an by an extremist racist Danish element in the Swedish city of Linkoping, which took place under the pretext of freedom of expression and under the auspices of the Swedish police".
Also, the chargé d'affaires of Sweden to Tehran was summoned to the Iranian foreign ministry on Sunday to convey Iran's protest at the desecration of the Holy Quran by a Swedish far-right group to his government.
Head of the Iranian Foreign Ministry's Third Western Europe Bureau summoned the Swedish envoy.
The Iranian official expressed Iran's strong protest at the sacrilege of Islam's holy book by the leader of a far-right group under the protection of Sweden's police and on the pretext of the freedom of expression.
The Iranian foreign ministry official strongly condemned the sacrilege of the Qur'an, reminding the Sweden's government of its responsibility in this regard.
He also called on Sweden to take an immediate and categorical step to end desecration of the Holy Qur'an and guarantee that such acts will not be repeated in the future.
The Iranian foreign ministry official added that insulting the sanctities of more than two billion Muslims of the world and hurting their feelings is the worst possible abuse of freedom of speech.
"This regrettable incident, which was carried out under protection of the Swedish police has marred the image of Sweden among Muslims of the world," he said.
The Swedish diplomat, for his part, expressed regret over the incident, adding that he will inform his country's officials of Iran's protest as soon as possible.