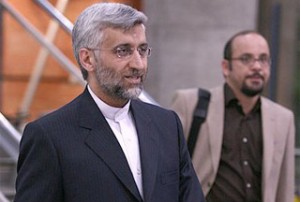 Iran's top nuclear chief has called for the implementation of the UN nuclear watchdog regulations and the NPT Safeguards Agreement to bring about global disarmament.
"This is a very serious issue. An international demand should be created for the disarmament nationwide and particularly for powers who use their nuclear capabilities and warheads," Saeed Jalili told reporters in Tokyo.
He urged an investigation into reasons that certain countries have access to modern nuclear weapons.
Certain powers are testing new generation of nuclear arms. They intend to remove pressure of the world's public opinion for the international disarmament by making propaganda, he said.
"What measures have been taken about nuclear arms of the Zionist regime [Israel] by those who passed three resolutions against the Iranian nation only for the existence of few centrifuges in Iran?" Jalili asked in an address to the Security Council.
"Which powers have provided the illegitimate regime [Israel] with nuclear arms?"
The secretary of the Supreme National Security Council also said that all signatories to the nuclear Non-Proliferation Treaty (NPT) should have their rights.
"The International Atomic Energy Agency (IAEA) and the NPT will sustain serious damage if legal limitations are imposed to certain members that carry out their responsibilities," he said.
He called on the international community to make efforts to help international disarmament and non-proliferation and prepare ground for the access of all nations to peaceful nuclear energy.
"The Islamic Republic of Iran believes that no country should possess nuclear arms but all nations should have access to peaceful nuclear energy," Jalili said and added that Iran opposes monopoly of peaceful unclear energy.
Iran, a signatory to the Nuclear Non-Proliferation Treaty (NPT) and a member of the IAEA, says its nuclear program only seeks civilian applications of the technology.
However, the West accuses the country of seeking to develop nuclear weapons.
The IAEA, which is continuously monitoring Iran's activities, says there is no evidence proving the West's allegations.
In regards to a UN draft for exchange of Iran's low-enriched uranium with more redefined fuel, he said the West's approach toward the proposal shows that if the country did not possess 3.5 percent enriched uranium, they would not be willing to provide it with fuel required to produce medical isotopes.
Turning to the threats of sanctions against Tehran over the proposal, he said it is quite "bizarre" that they seek to impose sanctions against a country for not willing to buy fuel from them.