Middle East
Palestine
Iran's Judiciary Chief: Normalization Deals No Guarantee for 'israel's' Survival
Iran's Judiciary Chief Seyed Ebrahim Rayeesi underlined on Tuesday that normalization deals by some Arab states may not protect Israel from annihilation.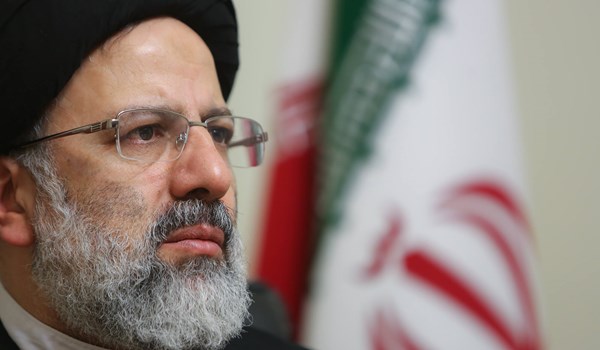 "Any contract aiming to guarantee Israel's survival is doomed to failure," Rayeesi said at a meeting with outgoing Syrian Ambassador to Tehran Adnan Mahmoud on Wednesday.
He referred to the failure of previous deals with Israel, including Camp David, Oslo and Sharm al-Sheikh, and said the recent agreements between Tel Aviv and certain Arab regimes will also fail.
"The ties between the US puppet governments and Israel are no ties among nations and are unable to help the survival of the empty and the occupying Israeli regime and we are not concerned about these ties," Rayeesi said.
He underlined that the remarks by the late founder of the Islamic Revolution Imam Khomeini and Supreme Leader of the Islamic Revolution Ayatollah Seyed Ali Khamenei who have said "Israel will not survive" will be materialized.
Sudan became the fifth Arab country to sign a normalization agreement with Israel, following the announcement of a similar agreement between Tel Aviv, Abu Dhabi and Manama last month, signed in Washington under the auspices of US President Donald Trump. Jordan signed a peace agreement with Israel in 1994 and Egypt in 1979.
On Friday, US President Donald Trump said Israel and Sudan had opened economic ties as a pathway toward normalized relations.
He announced the deal in the Oval Office while on a conference call with Israeli Prime Minister Benjamin Netanyahu and Sudan's Prime Minister Abdalla Hamdok and its Sovereign Council Chief General Abdel Fattah al-Burhan.
As part of the agreement, Trump took steps to remove Sudan from a US government list of countries 'promoting terrorism.'
The streets of Khartoum, Sudan's capital, have hosted crowds of angry people protesting the deal and urging General Burhan to reverse track.
Some Sudanese political parties have also lined up to declare their outright rejection of the agreement.
The Islamic Hamas movement in Gaza condemned the Sudanese government's decision to normalize relations with Israel, like the UAE and Bahrain.
"Our heroic Palestinian people, together with all the people of the Arab and Islamic nations and the free world, have received the news of the Government of Sudan's agreement to normalize relations with the Zionist enemy with great shock, condemnation and reprehensible،" the group said in a statement.

The statement added, "We express our condemnation, anger and disgust at this shameful and degrading normalization that is not befitting Sudan's people, history, status and role as a deep state in support of Palestine and its cause and resistance."

The statement called on the people of Sudan to reject the "agreement of shame", which "will not bring stability or détente to the country, but will take it towards further fragmentation, narrowing and loss".

It added, "We have confidence on the people of our nation that they will not be dragged into this quagmire as some regimes and governments have done, and the people of our nation will remain vibrant with the love of Palestine, al-Quds and the Blessed Al-Aqsa Mosque, and loyalty to the Palestinian cause until Palestine is cleansed of the tyranny of the usurped Zionist invaders."