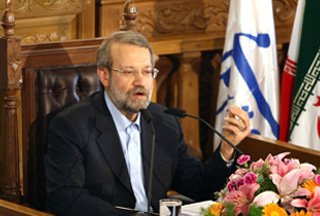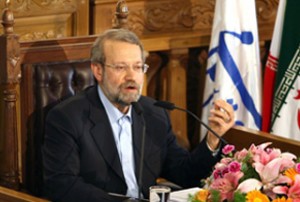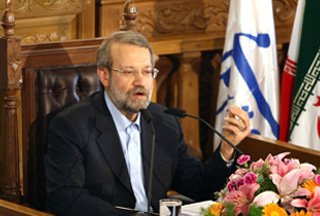 Iran's parliament (Majlis) speaker Ali Larijani advises the West to pursue a diplomatic approach in resolving their differences with Tehran on the issue of its nuclear program.
Speaking at a press conference in Tehran Tuesday, Larijani reiterated that the US, France, Britain and Germany have sought to delay the supplying of fuel to Iran for Tehran's research reactor through "mischievous" acts.
"They eventually came to the understanding that Iran is only willing to act according to the [International Atomic] agency's framework; so they abandoned the 'carrot and stick' approach, only to resort to sanctions," he added.
The United States and its mainly Western allies are stepping up efforts to rally support for a forth round of sanctions against the Islamic Republic for its refusal to bow to pressure by nuclear powers to halt its peaceful nuclear program.
According to a draft proposal, the new sanctions intend to restrict access of Iranian banks to international operations, falling short of imposing sanctions against Iran's oil and gas industries.
Iran, as well as many heads of state and analysts, has insisted that the planned sanctions against the Islamic Republic will prove futile, given Iran's growing expansion of economic and political ties with many non-Western countries.
Furthermore, reports indicate the unlikelihood of the passage of an anti-Iran resolution in the UN Security Council, as China and Russia continue to voice reservations about the US-led move. Both Washington and Europeans have thus issued threats of imposing unilateral sanctions against Iran.
The Western powers claim Tehran's nuclear program is aimed at developing nuclear weapons, a charge that the inspectors of UN's nuclear watchdog stationed in Iran have been unable to substantiate.
Iran, on the other hand, is a member of the International Atomic Energy Agency (IAEA) and a signatory of the Nuclear Non-Proliferation Treaty (NPT).
No country has ever been subjected to more voluntary IAEA inspections than Iran. The Islamic Republic has repeatedly called for the elimination of all nuclear arms across the globe, a call ignored by nuclear powers, especially the West.