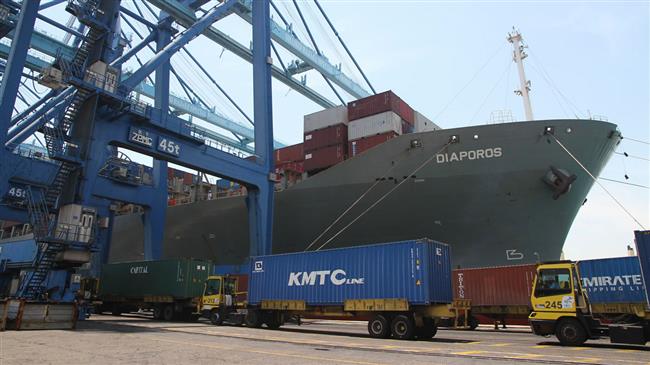 A new report shows that load and unload activity for petrochemical cargoes at the Iranian ports have surged by almost a third in one month despite sanctions imposed by the United States that seek to hamper the country's trade of crude and related products.
Iran's ministry of transportation issued a report on Monday saying that load/unload for ships carrying "oil products" had increased by 28.4 percent in the calendar month spanning October 23 and November 22, 2019, compared to the similar period last year.
The ministry said the surge in activity came despite a clear fall in the number of load and unloads for other cargoes in the same monthly period.
"In the category of load and unload of oil products, in comparison with the similar period last year, the issue is totally different as a figure of 3,705 tons has been recorded for load and unload of such products," said the report covered by the official IRNA agency.
The report said figures from the previous month had shown an increase of 5.4 percent for similar port operations compared to October-November 2018.
The increase in trade of Iran's petrochemical products comes despite repeated attempts by the United States to choke off the country's flow of revenues related to oil.
The United States has imposed rounds of tough sanctions on Iran's oil industry since November last year and after Washington decided to pull out of an international agreement on Iran's nuclear program.
Iran has admitted that the sanctions have affected its direct sale of crude but authorities insist the bans have caused a boom in the refining activity across the country.