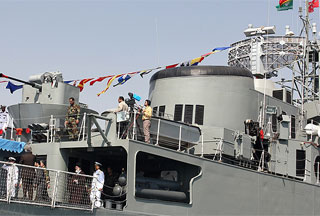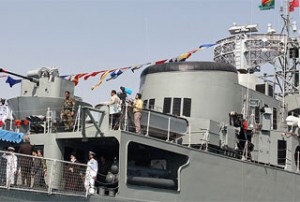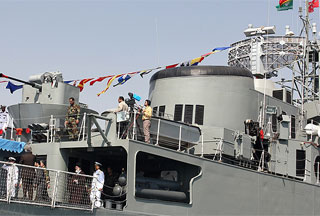 An Iranian naval commander says the Navy will be adding a second domestically manufactured destroyer to its fleet some time in the next two years.
Commodore Amir Rastegari, who heads the Navy's industrial command, made the announcement hours after Iran launched its first locally-made 1,420 ton Jamaran destroyer, equipped with a variety of anti-ship and surface-to-air missiles.
"Work continues on a new destroyer. In the next two years, a second Iranian manufactured vessel will be delivered to the Navy," he said.
Rastegari added that the Jamaran destroyer was completed in spite of Western efforts to hinder its manufacturing process.
"The Jamaran destroyer was built at a time when foreign naval fleets were increasing their presence in the region. In other words, it was built as they watched on with bewilderment," he explained.
Explaining the complexities of its construction, the commodore went on to say that the vessel's launch marked the beginning of a new era in Iran's defense industries.
According to Rastegari, over 120 scientific and technological institutions participated in the Jamaran project.
Going into detail, the naval official added that the destroyer is the first vessel manufactured by Iran that was built by combining several segments to form the hull. "The destroyer's hull is made up of 29 parts which were connected by the most sophisticated methods in this industry," he explained.
He noted that the Jamaran could be categorized as a frigate class ship.
Iranian officials say only a few countries have the technological know-how to devise the main systems that are needed to build a destroyer of this class.
Official announcements indicate that over 1,400,000 parts, devices and sophisticated internal machinery have been incorporated into the Jamaran Destroyer.