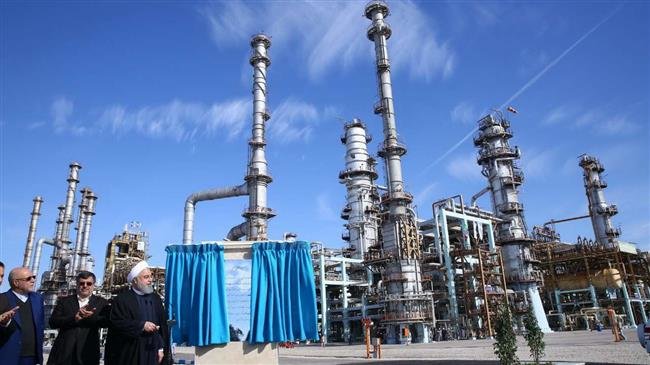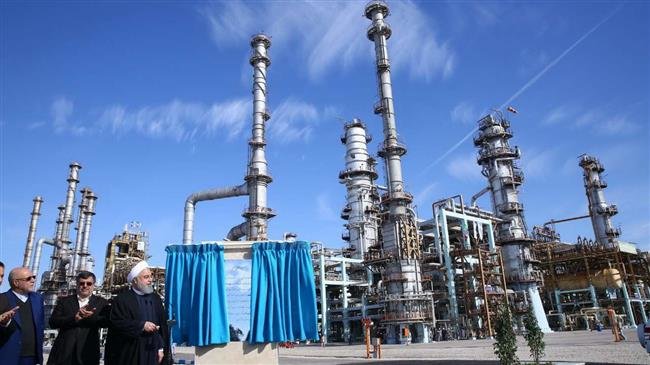 Iran is now a gasoline exporter but the country is not exporting any volumes for the moment, preferring to build up its stocks first, Minister of Petroleum Bijan Zangeneh says.
The third phase of the Persian Gulf Star Refinery came online Monday, marking self-sufficiency in gasoline with a total production of more than 100 million liters per day.
"Fortunately, we do not need to import gasoline anymore. We have reached self-sufficiency. We can export our produced gasoline but have no export plans," Zangeneh said after the inauguration in Bandar Abbas.
Iran has imported no gasoline since September and sees no need to do so, because the country is now virtually an exporter of the strategic fuel.
"However, we intentionally do not export gasoline because we want to raise the country's gasoline stocks," Zangeneh said.
Despite being a major oil producer for decades, Iran struggled to meet its domestic fuel needs for years because of a lack of refining capacity which made the country prone to foreign sanctions.
However, when US President Donald Trump decided in May to reimpose sanctions on the Islamic Republic, he ruffled no feathers among fuel purveyors in Iran.
Iran produced less than 50 million liters per day of gasoline before the former Obama administration imposed sanctions on Tehran in 2011 when consumption stood at about 60 million liters a day. That meant the country had to purchase around 10 million liters per day from international vendors.
Last summer when overall gasoline consumption stood at 91 million liters, Iran's production capacity had already surpassed 93 million liters, according to figures provided by Ministry of Petroleum.
The launch of the Persian Gulf Star Refinery's third phase on Tuesday raised the overall gasoline production capacity to 105 million liters a day.
"This is a 67% increase from last Aban (October 2017)" when Iran produced 63 million liters a day of gasoline, Deputy Minister of Petroleum Alireza Sadeqabadi has said.
According to Sadeqabadi, Iran will have produced 20 million liters of surplus gasoline in the second six months of the Persian year which ends on March 21.
The Persian Gulf Star Refinery is part of the giant South Pars production chain, with a capacity to take in 400,000 barrels per day of gas as feedstock. Zangeneh said the refinery accounts for 20 percent of Iran's 2.1 million barrels of daily refining capacity.
Its construction with 3.5 billion euros ($4.7 billion) of investment began in 2006 and the first phase came into operation in April 2017 and the second phase last June. Zangeneh said the construction of the fourth phase will begin "in the near future".
Head of Khatam al-Anbiya Construction Headquarters, an Iranian engineering firm and one of the main contractors involved in the refinery's construction, said the plan is to build "a 100 percent Iranian refinery" at phase four.
"In the previous phases of the Persian Gulf Star Refinery, we imported 30 percent of the equipment, including hydrogen compressors," Saeed Mohammad said.
"The construction of these compressors, which require a very sophisticated technology, has been delegated to the IRGC Aerospace Organization for the reverse engineering," he added.
His company is affiliated to the Islamic Revolution Guards Corps (IRGC). Mohammad said the entry of Khatam al-Anbia Construction Headquarters into the project was to fill the void from the withdrawal of foreign companies after Iran came under sanctions.
Each of the three phases of the refinery are designed to also produce 4.5 million liters/day of Euro-IV diesel, one million litters/day of kerosene and 300,000 liters a day of liquefied petroleum gas (LPG).
Zangeneh said Iran is currently producing 76 million liters/day of Euro-IV and Euro-V gasoline which is close to consumption figures.
This capacity was zilch six years ago when Iran had to produce gasoline at petrochemical units because of Western sanctions, leaving many cities and towns blanketed with a haze of choking smoke.
President Hassan Rouhani on Tuesday praised the inauguration, saying in a televised speech that it comes despite America's "imposing the harshest sanctions" on Iran.