Economy
Iran's non-oil trade hits $11.7b in two months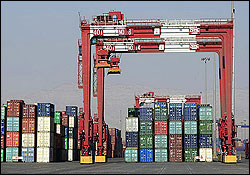 Iran's non-oil trade valued at $11.7 billion in the Iranian months of Farvardin and Ordibehesht (March 21-May 21), Mehr News Agency reported citing the Iranian Customs Administration .
Some 13.732 million tons of non-oil products, worth $6.137 billion dollars, were exported in two past [Iranian] months, showing 47.8 percent rise in weight and 9.1 percent drop in worth compared to the same period in the last year.
Main part of the goods was exported to China, Iraq, the United Arab Emirates, Afghanistan, and India, valued at $1.124 billion, $893 million, $559 million, $422 million, and $392 million, respectively.
Iran's imports stood at 4.173 million tons, worth 5.692 billion dollars, in two past months, indicating 47.32 percent drop in worth and 49.31 percent drop in weight.
Iran imported products mainly from China, the United Arab Emirates, India, South Korea and Turkey and the worth of imported goods was $1.075 billion, $1.011 billion , $563 million, $525 million, and $476 million, respectively.
Iran's non-oil trade with outside world hit $94.8 billion in the past Iranian calendar year, which ended on March 20, Iranian Customs Administration Director Abbas Memarnejad said in April.
TPOI Deputy Director Kiyumars Fat'hollah Kermanshahi said in May 2012 that Iran's annual imports and exports are projected to reach $77 billion and $83 billion, respectively, by March 2016.