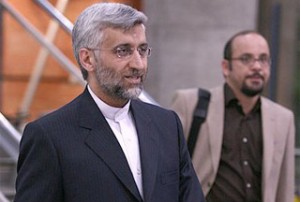 Iran's top nuclear negotiator Saeed Jalili says the Fordu nuclear facility is open to inspection by the International Atomic Energy Agency.
"Within the framework of the IAEA and the Nuclear Non-Proliferation Treaty (NPT), the nuclear watchdog will be allowed to inspect the nuclear site (Fordu-the second nuclear facility that is under construction) as it has been the case with the Natanz nuclear facility," the secretary of Iran's National Security Council, Saeed Jalili said late on Friday in Tehran among reporters upon his arrival from Geneva, where negotiations between Iran and P5+1 were held.
"Iran believes the talks were constructive because they were based on cooperation and common interests," Jalili added.
Iran's top nuclear negotiator regretted the harsh rhetoric used by some nations in the past, calling on world powers to avoid pervious mistakes if any achievement is meant to be reached in the nuclear talks.
Pointing to Iran's recent achievements at the national, regional and international level, Jalili said Tehran entered the talks with a positive approach, adding that the country's package of proposals were high on the agenda during the talks.
Jalili also noted that the nation's right to have access to peaceful nuclear energy was "decisively defended" at the talks. He said that no such issue as halting uranium enrichment was brought up at the negotiations.
During the Geneva talks — which were described as productive by all parties — Iran and the P5+1 group consisting of the five permanent members of the UN Security Council – Russia, China, the US, France and the UK plus Germany, agreed to hold another round of talks before the end of October.
Iran also agreed in principal to ship some of its low-enriched uranium abroad for reprocessing. Jalili said Iran needs 20 percent enriched uranium for a Tehran nuclear reactor which produces medical isotopes.