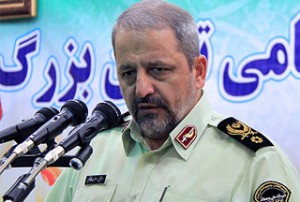 Iran's Police Force has vowed to protect Iranian scientists and researchers against attempts made on their lives by providing the necessary security provisions.
"We were tipped off about the possibility of a [terrorist] attack. However, we suspected that installations in another place may be targeted," ISNA quoted Iran's Police Chief Esmail Ahmadi-Moqaddam, as saying on Friday.
Ahmadi-Moqaddam was referring to the assassination of Iranian nuclear scientist, Dr. Massoud Ali-Mohammadi, who was killed during a remote-controlled bomb attack in the Iranian capital on Tuesday.
The police chief said that Iran's Intelligence Ministry and the Police Force had launched a joint investigation into the scientist's death
He added that, from now on, Iranian scientists would be protected by uniformed or under cover security teams.
Authorities in Tehran say US or Israeli linked groups are responsible for Dr. Ali-Mohammadi's assassination.
In a Thursday speech, Iranian President Mahmoud Ahmadinejad blamed Tel Aviv for the attack, saying that the assassination method resembled tactics usually used by Israel.
Addressing a gathering in the southern Province of Khuzestan, Ahmadinejad said that the enemy was trying to obstruct Iran's path to scientific success.