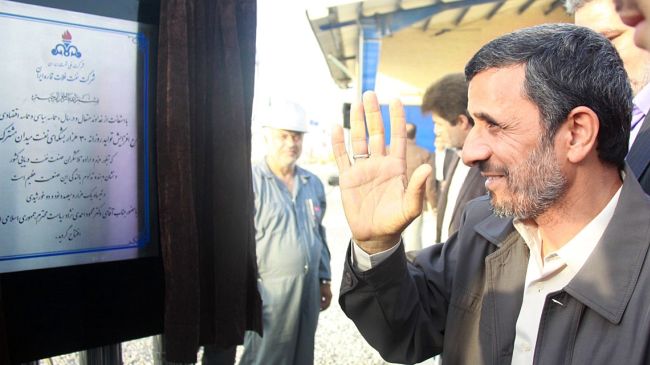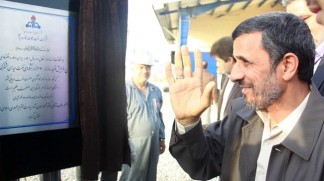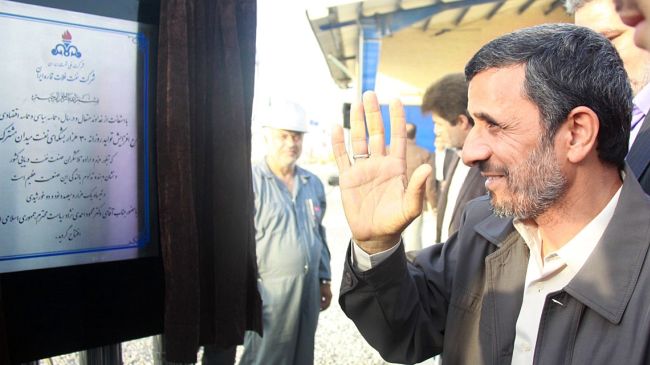 Iran's President Mahmoud Ahmadinejad has inaugurated several energy projects in southern Iran, saying the Islamic Republic's oil industry is now majorly run by Iranian experts.
"Eight years ago, early after the instatement of the 10th [Iranian] administration, the foreign oil companies that were active in Iran quit work with a mean spirit and wishfully thinking that the Iranian oil industry would come to a halt," said President Ahmadinejad on Thursday during a ceremony to inaugurate three developmental and infrastructural projects in the southern province of Hormozgan.
Noting that the annual investment of those foreign oil companies that left Iran was less than USD 1.5 billion, the president emphasized that they regarded Iranian oil as "their paternal inheritance" and claimed a share in "this God-given wealth of the Iranian nation," using their investments to inflict political costs on Iran and claim ownership over most of the country's oil revenues.
The Iranian president went on to note that, with the effort of the Iranian oil industry experts and labor force, nearly all the work in this sector is now being done by domestic experts.
He also said that, in the past eight years, the average annual investment in Iran's oil industry has been 15 billion dollars.
He further noted, however, that there are still a number of foreign companies active in Iran's oil industry "but under equal terms" as Iran, which is reflective of "the glory, capability and flourishing of the Iranian nation's talents."
President Ahmadinejad then added that, despite enemy efforts to make things difficult for the Islamic Republic, the Iranian nation will overcome all difficulties, "since Iranians are a great nation with 7,000 years of bright civilizational history."
Pointing to the benefits of the new developmental and infrastructural projects in Hormozgan, the president referred to the oil in the Hengam zone as "high-quality" and said that the achievement made in the area was "very huge and valuable."
In order to increase the production capacity at the Hengam Oil Field, the drilling in the project is conducted at sea, where oil and gas exploration facilities are installed…, "which is technically a very sophisticated and great task," Ahmadinejad further said.
The Iranian president also vowed that the Iranian Persian Gulf Island of Qeshm will soon turn into "one of the nation's largest oil and gas zones," providing thousands of job opportunities for the people of the island.
He also said the projects for increasing the mineral and industrial capacity of the wharf at Iran's Persian Gulf special economic zone as well as a ship building and repair facility in the area were "technically very advanced" and were a major step toward Iranian self-sufficiency in the field.