General
Iran's President: Insulting Prophet of Islam is insulting values, morality, freedom
Iran's President Hassan Rouhani says any affront directed at the Prophet of Islam is in fact an insult to human values, morality and freedom.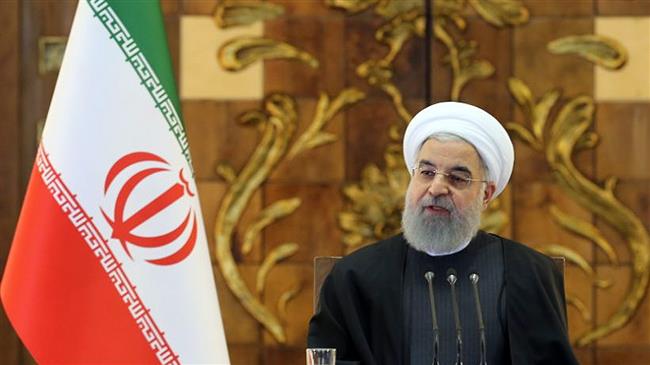 Rouhani made the remarks in separate messages to heads of Islamic states on Monday, in which he congratulated his Muslim counterparts on the birth anniversary of the Prophet Mohammad (PBUH).
Rouhani's remarks came in the aftermath of a measure by French satirical magazine Charlie Hebdo, which reprinted offensive caricatures of the Prophet Mohammad (PBUH) last month. The cartoons were originally published by the Danish newspaper Jyllands-Posten in 2005, and then republished by Charlie Hebdo in 2006.
Charlie Hebdo's measure drew strong criticism from Muslim countries who called it an Islamophobic act, despite which French President Emmanuel Macron refused to condemn the measure, citing freedom of expression and claiming that it was not right for a political leader to get involved in editorial matters.
In his messages, Rouhani said Prophet Mohammad (PBUH) is a model of morality and blessing for the entire world, and insulting such a noble person is an insult to values, morality and freedom.
Iran's president added that supporting those who insult the Prophet of Islam amounts is supporting vileness, vice, desecration and extremism.
"The Islamic Republic of Iran strongly condemns such an act and we also expect Muslim countries to denounce such unwise measures," Rouhani said.
He emphasized that following the path and tradition of Prophet Mohammad (PBUH) and seeking assistance from the Holy Qur'an can help human beings in the face of all kinds of problems, differences and misfortunes in the world.
Leader of the Islamic Revolution Ayatollah Seyyed Ali Khamenei on Wednesday urged the French youths to question the so-called reason underpinning Macron's support for insult against the Prophet of Islam in the name of "free speech."
Addressing the youths in a statement, the Leader advised, "Ask your president why he supports insulting God's Messenger in the name of freedom of expression."