Economy
Iran
Middle East
North America
Iran's Rouhani: Sanctions have failed to break us
President Hassan Rouhani says the United States' sanctions have failed to break down Iran's resistance, expressing certainty that the Iranian nation will successfully weather the current situation.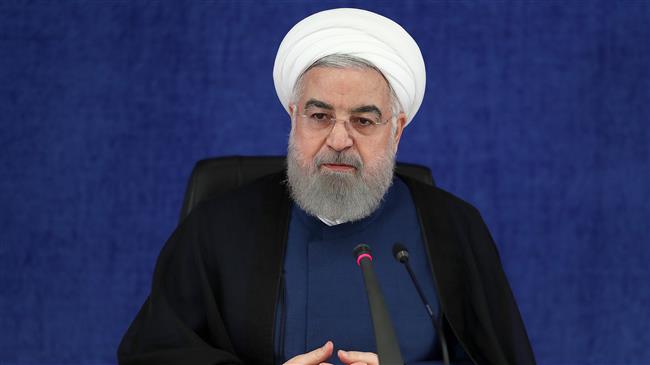 "The sanctions have failed to break us," only managing to bring the people under pressure and cause them hardship, Rouhani said on Thursday. The president was speaking during a ceremony held in Tehran to mark operationalization of the Ministry of Energy's developmental plans throughout the country.
The US returned the sanctions in 2018 after leaving a historic and internationally-lauded nuclear agreement between Iran and world powers.
Departure from the deal — that is officially known as the Joint Comprehensive Plan of Action — and restoration of the bans both constituted illegal actions because they came in absolute disregard for the fact that the JCPOA has been ratified by the United Nations Security Council. The illegal measures were also marked by sheer unilateralism as they violated the international nature of the deal that has the UK, France, Russia, and China plus Germany as its other parties.
Nevertheless, the coercive economic measures have failed to force Iran to abandon its developmental projects, Rouhani said. "We kept up the projects, and I am certain that our dear people will put these problems behind," he added.
The chief executive, meanwhile, advised strongly towards national solidarity and against efforts at demoralizing the people amid the situation.
"Today, the biggest act of treachery against the people of Iran [who are caught] in the middle of the battleground against America, Zionism, and the reactionary regional regimes would be raising talk that could dispirit or frustrate the people or destroy their morale," the president warned.
All have to stand by each other's side and lend one another assistance these days, Rouhani concluded.