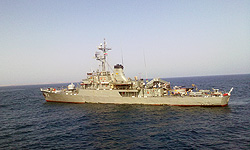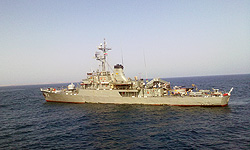 Commander of the Iranian Navy's second division Rear Admiral Hossein Ashrafi, in a special ceremony held in Bushehr, told reporters that Iran deployed its warships in the region after the start of piracy and repeated cases of insecurity in 2008.
He pointed out that following insecurities in the region, the Iranian commander in chief commissioned the Navy to go to the Aden Gulf waters and provide safe passage for ships in the region.
Ashrafi noted that the Navy's second fleet of warships was commissioned from Bushehr Port and during the mission it thwarted pirates' operations against ships carrying Iranian goods.
He added that during the mission, the Iranian flotilla contacted 184 oil and commercial vessels of which 41 were Iranian, adding that monsoon with a speed of 110 kilometers per hour was the main problem experienced during the mission.
The Iranian Navy's second fleet of warships came back home Saturday morning and was welcomed in a special ceremony held in Iran's Third Naval Zone in the southern port city of Chabahar, south eastern of Iran, and attended by the Commander of the Islamic Republic of Iran's Navy, Rear Admiral Habibollah Sayyari.
The fleet, which included Bandar Abbas logistic ship and Shahid Naqdi destroyer, succeeded in boosting security in the region and providing safe passage for tens of Iranian trade cargo ships and tankers and also foreign vessels during its long mission.
Last Monday, the Islamic Republic of Iran's Navy dispatched its third fleet of warships to the Gulf of Aden.
The fleet, which includes Khark battleship and Sabalan destroyer with 400 personnel and naval forces, replaced the second fleet in the Gulf of Aden, a stretch of water between south Yemen and Somalia.