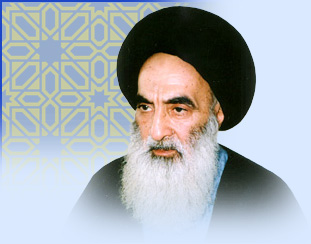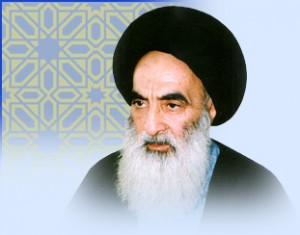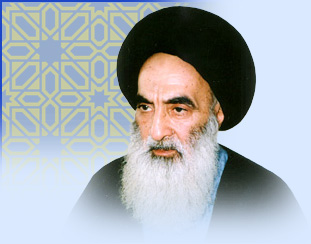 Majlis Speaker Ali Larijani held talks with Grand Ayatollah Ali Sistani, the leader of Iraqi Shias, in Najaf on Saturday in which the two sides exchanged views about the most important regional issues.
According to the Mehr News Agency correspondent who is accompanying Larijani to Iraq, the Iranian Majlis speaker presented his views about the most important developments and put an emphasis on seeking the advice of maraja' taqlid for resolving various issues and brokering greater unity among Muslims.
Ayatollah Sistani welcomed the Iranian delegation and expressed his views about issues facing Muslims in the region and beyond.
The ayatollah also wished success for Iranian officials in undertaking their duties.
Ayatollah sistani has been very influential in preventing sectarian violence between Shias and Sunnis which has been seriously pursued by individuals inspired by al-Qaeda since the invasion of the country in 2003.
Larijani, who started a four-day tour of Iraq on Wednesday along with a parliamentary delegation, also met with Ayatollah Saeed Hakim in Najaf on Saturday.
During his stay in Iraq, Larijani met with top Iraqi officials including his counterpart Ayad al-Samarraie, Prime Minister Nouri Maliki, President Jalal Talabani, and Foreign Minister Hoshyar Zebari.
In their meeting on Thursday, Larijani and the Iraqi prime minister agreed to establish a joint committee to ensure that the agreements between Tehran and Baghdad are implemented.
Iran is now considered a major ally of Iraq in the region and has established good economic and political relationship with the country since the fall of the Saddam Hussein regime.
However, Iran has called for an immediate withdrawal of foreign troops from the country, saying Iraqis themselves are able to establish security in their country.
Larijani stated that Iran's outlook toward Iraq is strategic not tactical.
"Our outlook toward relations with Iraq is not tactical but is strategic," the senior lawmaker said in a meeting with a number of Iraqi politicians in Baghdad on Thursday.
Larijani also stated that certain countries are worried about the fact that Iran and Iraq play strategic roles in the region and they are devising plots to sabotage their relations.