Iran
Middle East
Iran's Top Commander Lauds Army for Effective Assistance in Anti-Coronavirus Battle
Chief of Staff of the Iranian Armed Forces Major General Mohammad Hossein Baqeri in a meeting with Army Commander Major General Seyed Abdolrahim Mousavi praised the Army forces for their relentless efforts in campaign against the coronavirus epidemic.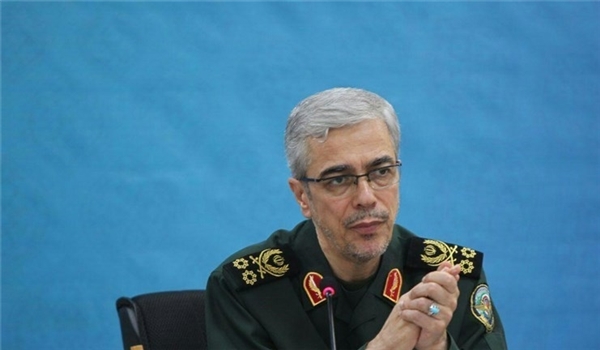 The Iranian Army forces showed excellent performance in the fight against coronavirus, General Baqeri said in the meeting in Tehran on Thursday on the occasion of the Army Day in Iran (April 17).
He congratulated the Army Day, saying, "Iran's Army is performing its missions more authoritatively and efficiently under the guidelines of Leader of the Islamic Revolution."
General Baqeri referred to the outbreak of coronavirus in Iran, and said, "In the early days of the outbreak, the Army forces of the country outshined in its mission spontaneously, even at the mission that had not been defined, and managed to render considerable services to the noble nation of Islamic Iran at hospitals, roads, different cities and convalescent centers."
General Mousavi, for his part, said that Army's healthcare and treatment capacities will be at the service of the noble nation of Islamic Iran.
After the outbreak of the novel coronavirus in China, the Army Forces of the country took drastic measures and prepared its necessary facilities to offer high-quality medical services to the people, he said.
The Iranian Armed Forces have been actively involved in anti-coronavirus activities across the country.
Commander of the Iranian Ground Force Brigadier General Kiomars Heidari announced last month that the military body would use three types of home-made vehicles to disinfect and sanitize public places in big cities across the country to further contribute to the national campaign against the new coronavirus outbreak.
He said that three types of new domestic vehicles have been designed and produced and will be used for disinfecting public places.
Also, late in March, the Iranian Army launched a medical center with 2,000 beds at Tehran International Permanent Fairground special to the coronavirus patients who are recovering from the deadly disease.
The medical complex, prepared within 48 hours, was inaugurated in a ceremony in the presence of General Mousavi, General Heidari, Deputy Chief of Army for Coordination Rear Admiral Habibollah Sayyari, Deputy Health Minister Iraj Harirchi and the Armed Forces' Deputy Commander for Health and Treatment Brigadier General Hassan Araqizadeh.
The medical center has 2,000 beds, and according to the Army, the number can be boosted to 3,000.
Addressing the ceremony, General Heidari said that the Army has launched 27 hospitals and 4,750 hospital beds across the country so far, stressing readiness to prepare 8,000 others.
Also, Rear Admiral Sayyari said that the Army is well-prepared to thwart any threat thanks to combat capability.