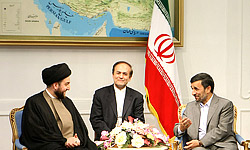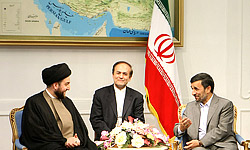 Iranian President Mahmoud Ahmadinejad on Tuesday highlighted the significant role of Iraq in the region.
"Iraq's role in the Islamic region is very important," Ahmadinejad said at a meeting with visiting Head of the Supreme Iraqi Islamic Council (SIIC) Ammar al-Hakim here in Tehran today.
"The country is among the main bases of the Islamic rule in the world," the president said, adding, "Therefore, enemies are concerned and upset about advancement and establishment of security and peace in Iraq."
Referring to the improvements made in different sectors in Iraq, Ahmadinejad stated, "Despite the improvement perceived in Iraq's conditions, more care and follow-up is needed for stabilizing and institutionalizing security and tranquility and reaching the point of confidence in Iraq."
The Iranian president further pointed to growing vigilance among the Iraqi people, and expressed confidence that members of the former Baathist regime could never return to power and autocracy would never be seen in Iraq again.
Ammar Hakim, for his part, reminded the brotherly ties between Tehran and Baghdad, and added, "Undoubtedly, further strengthening and deepening of the two countries' relations in the different spheres will cause worry and sadness for the enemies of the world of Islam."