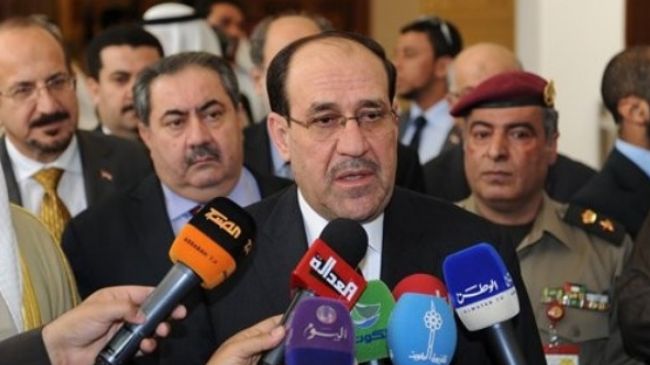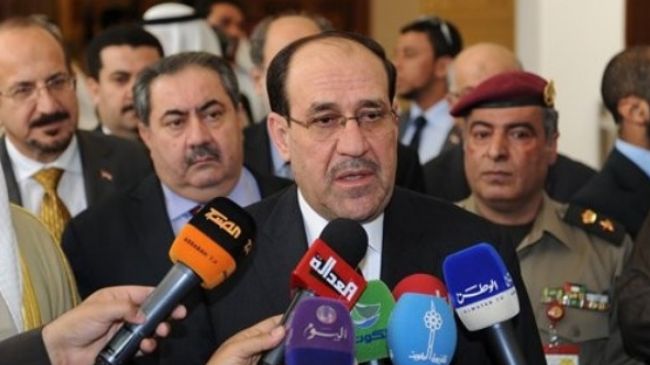 Iraqi Prime Minister Nouri al-Maliki says Baghdad rejects attempts to overthrow the government of Syrian President Bashar al-Assad and arming the terrorists.
In a Sunday press conference in the Iraqi capital, Maliki said Baghdad rejects "any arming" of the Syrian terrorists and the "process to overthrow the regime, because this will leave a greater crisis in the region."
"It has been one year and the regime did not fall, and it will not fall, and why should it fall?"
The Iraqi premier made the remarks on the day when the second meeting of the so-called "Friends of Syria" group was held in the Turkish city of Istanbul.
Syria has been experiencing unrest since mid-March 2011.
Great Satan U.S, Zionist Israel, Western Powers, Saudi Arabia, Qatar and Turkey have voiced support for the terrorists in Syria.
However, Syrians have repeatedly expressed support for the Damascus government over the past months.
"We are against the interference of some countries in Syria's internal affairs, and those countries that are interfering in Syria's internal affairs will interfere in the internal affairs of any country," the Iraqi prime minister added.