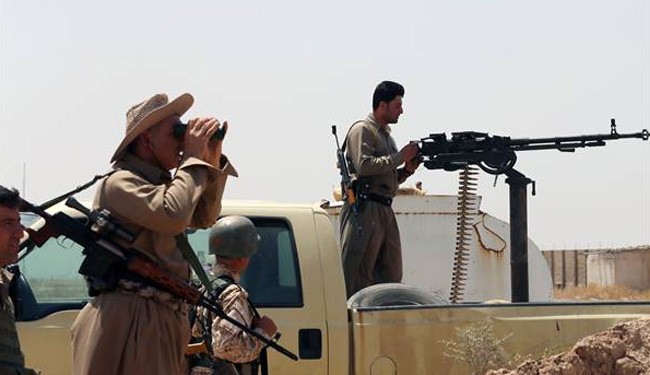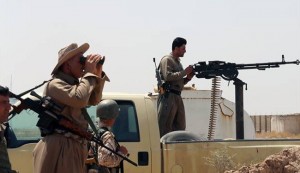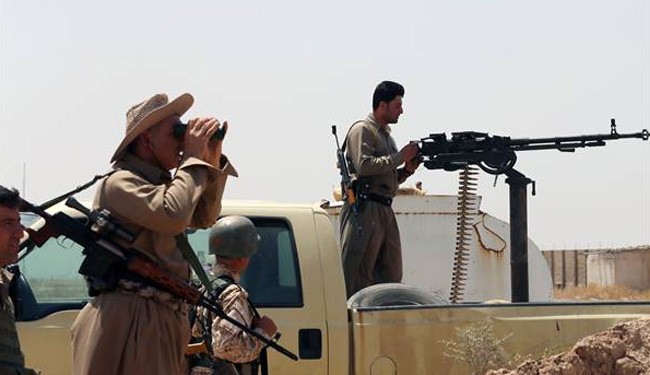 Iraq's air force and Kurdish fighters from Syria have joined forces with Iraqi embattled peshmerga to push back ISIL terrorists whose latest attacks sent thousands of civilians running for their lives. Kurdish peshmerga fighters, who cut their teeth fighting Saddam Hussein's troops, were regarded as one of the few forces capable of standing up to the Takfiri insurgents, who faced almost no opposition from Iraqi Prime Minister Nouri al-Maliki's US-trained army during their lightning advance through the north in June.
Then Sunday the ISIL fighters inflicted a humiliating defeat on the Kurds with a rapid advance through three towns, acquiring a fifth oil field to fund its operations along the way.
But the peshmerga declared they were mounting a counter-offensive Monday and Maliki ordered the air force to provide them support.
"The commander in chief of the armed forces has issued orders to the leadership of the air force and the army's aviation units to provide air support to peshmerga forces," army spokesman Qassem Atta said in a statement.
The peshmerga's fellow Kurds in Syria have also sent their own fighters across the border to help, in an unprecedented move.
"The Democratic Union Party (PYD) is fighting in the Sinjar area and Rabia," a senior army official told AFP, stressing that "it was not coordinated with the Iraqi government."
The Syria-based group posted pictures of what it said were its forces operating inside Iraq and said that PYD fighters had been battling ISIL militants north of Sinjar, one of the towns that fell to ISIL a day earlier.
The PKK, which has spent three decades fighting for autonomy for Turkey's Kurds, also urged all Kurds to take up the fight against ISIL.
Kurdish peshmerga Brig. Mashia Ramazan Fattah said the base where he was stationed came under ISIL mortar fire for 12 straight hours through Monday night. He was surprised to find that 500 peshmerga forces were outnumbered by ISIL fighters who forced them to flee.
Another commander who asked not to be identified said ISIL took everyone by surprise and had deployed snipers in addition to heavier weapons, and that in many cases the Kurds had simply run out of ammunition. "We can no longer carry on fighting with just Kalashnikov rifles," he said.
A senior Kurdish official said the Kurds had been overstretched because they had to watch over a vast territory. "The Islamic State (ISIL) has also been intimidating people by carrying out beheadings," he said, asking not to be identified.
As peshmerga fighters converged on the town of Sinjar and Zumar, both lost a day earlier, fleeing civilians risked being caught in the battle.
According to the UN, up to 200,000 people have fled the Sinjar area. Reports from displaced people and minority rights activists suggest smaller numbers.
There were only patchy reports on their fate, as many ran from their homes in a panic, some embarking on a long march in the heat to reach the autonomous Kurdistan region, and others scurrying into the mountains.
"ISIL does not have that many weapons but their propaganda is very effective," said Abu Asaad, a 50-year-old Turkmen Shia who fled to Dohuk in Kurdistan with his wife and their seven children. "In Sinjar, they sent messages saying they would occupy the town within an hour and so everybody fled," he told AFP.
Turkmen Shia rights activist Ali al-Bayati said hundreds of people found refuge in an abandoned factory and needed immediate assistance.
He said ISIL had killed the men in another group they intercepted and taken the women to an airport outside the nearby city of Tal Afar.
Many of those who fled Sunday were Yazidis, a small community that follows a 4,000-year-old faith and has been targeted by the terrorists who call them "devil-worshippers" because of their unique beliefs and practices.
"We last had contact with them last night [Sunday] but this morning we have not been able to make contact," said Khodhr Domli, a Yazidi activist based in the city of Dohuk.