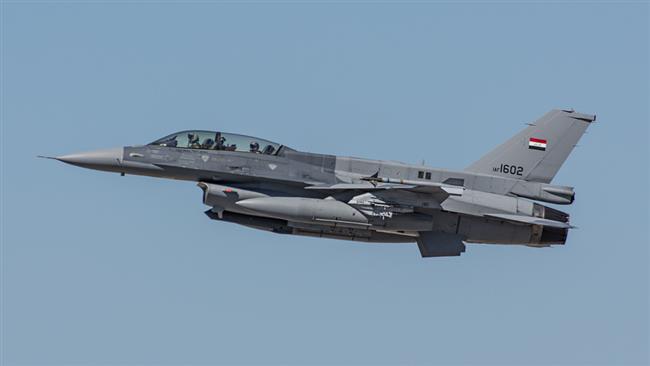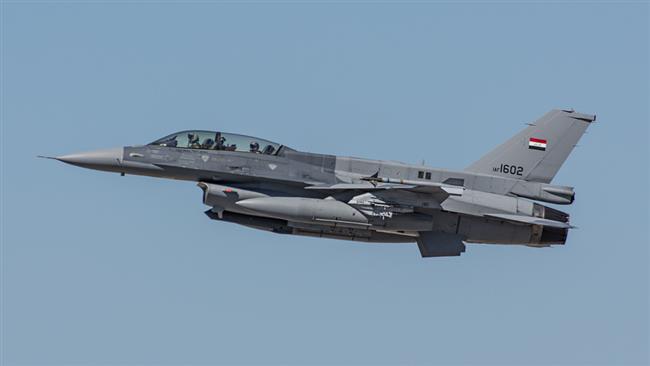 At least 125 members of the Takfiri Daesh terrorist group have been killed in multiple airstrikes carried out by Iraq's air force in the country's conflict-stricken northern province of Salahuddin.
A security source, speaking on condition of anonymity, told Arabic-language al-Sumaria satellite television network on Friday that the terrorists were killed after Iraqi fighter jets carried out precision strikes against Daesh positions in the town of al-Shirqat, about 250 kilometers (155 miles) north of the capital, Baghdad.
The source added that six arms depots belonging to Daesh extremists were completely destroyed in the aerial attacks.
Commander of the Federal Police Forces Lieutenant General Raed Shaker Jawdat also said Iraqi police troopers have engaged Daesh militants in the city of Husaybah, which lies seven kilometers (4.5 miles) east of Anbar's provincial capital city of Ramadi, killing 29 terrorists in the process.
He added that security personnel also managed to destroy a large amount of munitions and equipment, including rocket launchers and heavy machine guns, following the fierce firefights.
Meanwhile, the Kurdistan Democratic Party spokesman in Mosul, Saeed Mamouzini, has announced the death of four Daesh Takfiris, who were killed during fierce infighting over the distribution of property stolen during attacks in the militant-held city, situated some 400 kilometers (248 miles) northwest of Baghdad.
Adhal al-Fahdawi, a member of Anbar's local council, also said Iraqi security forces have fully purged al-Maziq district, located nine kilometers (5.5 miles) east of Ramadi, of Daesh terrorists and wrested complete control over the area.
Additionally, Iraqi troops backed by fighters from allied Popular Mobilization units have retaken al-Mal'ab region, which is situated in the embattled western province of Anbar, from Daesh militants. Ten terrorists were killed and three booby-trapped houses destroyed during the operation.
Gruesome violence has plagued the northern and western parts of Iraq ever since Daesh Takfiris launched an offensive in June 2014, and took control of swathes of Iraqi territory.
The militants have been committing heinous crimes against all ethnic and religious groups in Iraq, including Shias, Sunnis, Kurds, Christians and others.