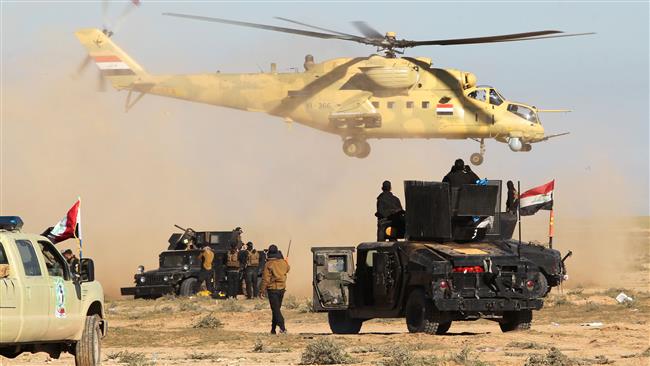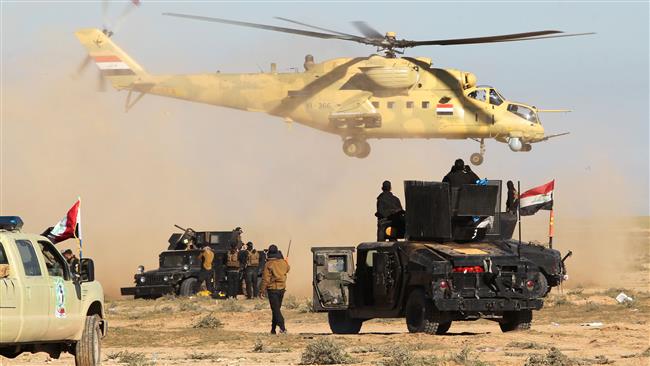 Iraq says its army and volunteer forces have begun operations to rid a town near the Daesh stronghold of Mosul of the Takfiri terrorist group's presence.
Iraqi Prime Minister Haider al-Abadi made the announcement in a televised address on Tuesday in New York, where he is to attend the latest summit of the United Nations General Assembly.
He said the joint forces had now launched operations to liberate Shirqat, located 100 kilometers south of Mosul, as well as two areas elsewhere, in western Anbar Province.
The regular and volunteer forces had already surrounded the town, where tens of thousands of civilians are believed to have been trapped by Daesh.
A security source, meanwhile, said four villages had already been liberated in the Shirqat district. The source said two villages had also been freed in Anbar Province's Haditha district.
"These operations pave the way for cleansing every inch of Iraqi land and God willing its end will be the liberation of the city of Mosul… the liberation of all Iraqi lands and the end of Daesh," the Iraqi prime minister said.
Daesh has been ravaging Iraq and Syria since June 2014, choosing Mosul in Iraq and Raqqah in Syria as its so-called headquarters. Coordinated anti-terror operations are underway around both cities as a means of retaking them.
To the south of Mosul, Daesh has only one other stronghold left aside from Shirqat, namely the city of Hawijah.
The Iraqi prime minister has, time and again, pledged that the country's forces will win Mosul back by yearend.
Much hope rests on the assistance provided by the volunteer forces, who are known as the Popular Mobilization Units. The forces helped decisively hold Daesh back in the months that followed the June 2014 onslaught by Daesh across Iraq when regular Iraqi forces fled bases en masse, leaving weapons and vehicles to be easily picked up by advancing Daesh terrorists and embarrassing the country's military. The military forces have better regrouped since then, however.
Earlier, on Monday, Marine General Joseph Dunford, the chairman of the US military's Joint Chiefs of Staff, said Iraq will have the full complement of the forces it needs to retake Mosul in October.
"They will have all of the forces that they need and it will be a political decision by Prime Minister Abadi as to when operations actually are conducted," he said.
The US and dozens of its allies have been striking purported Daesh targets in both Iraq and Syria since 2014 with negligible success.