Iraq
Iraq army secures 'relatively safe' exit route out of Fallujah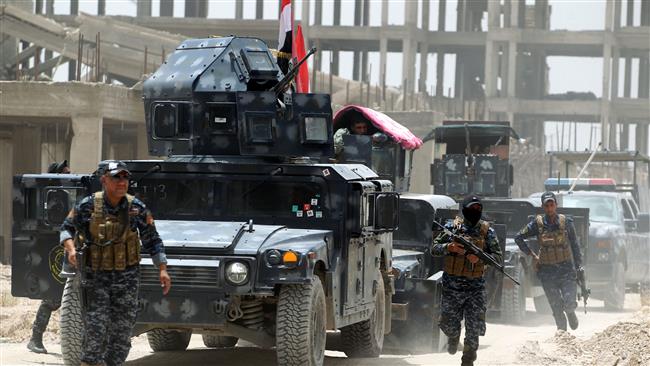 Iraq's army has secured the first "relatively safe" exit route for civilians attempting to flee the city of Fallujah amid operations by the government forces to retake key areas from the Daesh Takfiri terrorists.
According to Brigadier General Yahya Rasool, who is the spokesman for the Joint Military Command, an exit route, known as al-Salam (Peace) Junction, was secured southwest of the city.
"There were exit routes previously, but this is the first to be completely secure and it's relatively safe," media outlets quoted Rasool as saying on Sunday.
Iraqi forces have been engaged in a major offensive to free Fallujah, located in the western province of Anbar. The large-scale push for the liberation of the city started on May 23.
Latest reports indicate that the forces have recently pushed back the terrorists from the strategic areas of Subeihat and Falahat west of the city.
Thousands of civilians have been forced from their homes in Fallujah, while many more still remain trapped.
The Norwegian Refugee Council (NRC), which operates refugee camps in the city, earlier said a large number of civilians attempting to leave Fallujah have been shot and killed by the Takfiri terrorists.
Iraqi Prime Minister Haider al-Abadi recently announced that the offensive to liberate Fallujah has been slowed down due to fears for the safety of civilians being used as human shield. He also said safe corridors have been established to allow some civilians to exit.
In a separate development on Sunday, Iraqi troops managed to retake a village south of Mosul, a major city in the north that has been under the control of the terrorists since the summer of 2014. The Nineveh Operations Command said in a statement that government forces, equipped with tanks and armored vehicles, recaptured Kharaib Jabr on the western bank of Tigris River.
The army forces are already advancing toward the village of Haj Ali, about 60 kilometers (40 miles) south of Mosul.
Iraq's central government has announced that the army will launch a full-scale military campaign to retake Mosul after uprooting the terrorists in Fallujah.