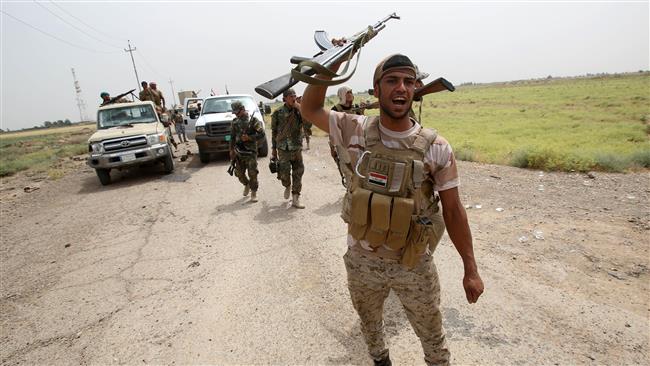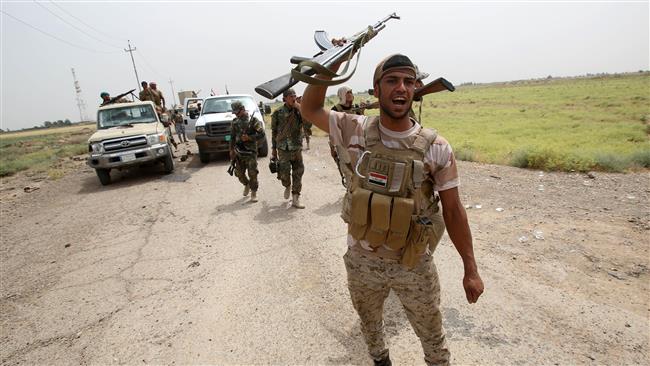 Iraqi volunteer forces have seized Saudi-made equipment from Takfiri ISIL militants in Iraq's western province of al-Anbar.
According to Iraqi media outlets on Wednesday, Popular Mobilization fighters attacked the positions of the Takfiri terrorists in an area in the district of al-Baghdadi in the provincial capital of Ramadi, killing seven members of the terrorist group and seizing their military equipment.
A Thuraya satellite phone set, electronic bombs, rockets and some automatic munitions made by Saudi Arabia were among the items discovered and confiscated by the Iraqi forces.
Meanwhile, the Iraqi army conducted air raids against the positions of the Takfiri terrorists across the country, inflicting heavy losses on them.
Iraq's Defense Ministry said that at least 19 militants were killed in the Iraqi air strikes in the cities of al-Karmah, and Ramadi in Anbar Province, in the cities of Mosul and Baiji in Salahuddin Province and in the city of Tal Afar in Nineveh Province.
Reports also said that at least 6 militants were killed in Iraqi air strikes in the area of al-Habanieh in Anbar.
Faisal al-Esawi, a leader of the Albu Esa tribe in the Amiriyat al-Falluja district near Ramadi, also said that as many as 400 Takfiri militants were killed in the Iraqi air raids on the regions of Anah and Rawah on Monday.
The Iraqi army, backed by Popular Mobilization forces, has been carrying out operations against Takfiri groups to retake Anbar's provincial capital from ISIL extremists.