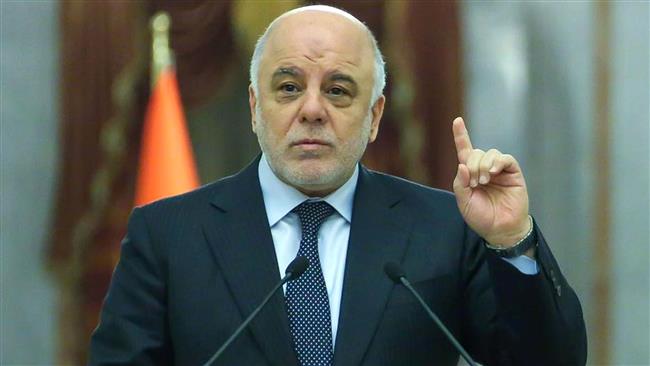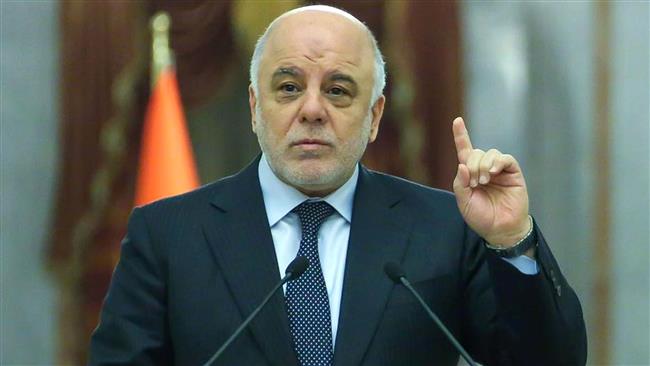 Iraqi Prime Minister Haider al-Abadi has announced the start of an operation to liberate the western side of the flashpoint city of Mosul from the grip of the Takfiri Daesh terrorist group.
"Our forces are beginning the liberation of the citizens from the terror of Daesh," Abadi said in a televised speech on Sunday morning.
"We announce the start of a new phase in the operation. We are coming, Nineveh, to liberate the western side of Mosul," he added, referring to the province of which Mosul is the capital.
The remarks came one day after Iraqi planes dropped leaflets on western Mosul warning locals of an imminent offensive.
Militants are said to be under siege in western Mosul, home to the narrow streets of the Old City. Some 650,000 civilians are also estimated to be trapped in the area.
There are fears about civilians' safety as Daesh elements have a record of using people as human shields and killing those attempting to flee.
Iraqi Federal Police and Interior Ministry forces are expected to move on Mosul Airport, on the southern edge of the city, as part the new phase of the liberation operation.
Shortly after the beginning of the western Mosul battle, the Iraqi forces managed to wrest control over three villages as well as a power station in southwestern Mosul.
Iraqi army soldiers and allied fighters launched the offensive to retake Mosul , Daesh's last major city stronghold in the country, on October 17, 2016, and since then they have made sweeping gains against Takfiri elements.
Iraqi forces took control of eastern Mosul last month, but the west still remains in the hands of the militants.
Mosul fell to Daesh in 2014, when the terror outfit began its campaign of death and destruction in the Arab country.