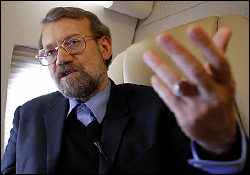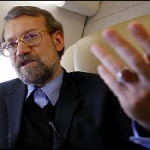 Iranian Majlis Speaker Ali Larijani has said that Iraq needs lasting security to attain its development goals.
In a meeting with Iraqi Parliament Speaker Ayad al-Samarraie in Baghdad on Wednesday afternoon, Larijani said that Iran is sincere in its relations with Iraq and will support the development process in the country.
Larijani arrived in Baghdad on Wednesday for a four-day visit.
The people of the two nations have always been friends and even during the war imposed by Saddam Hussein on the people of Iran from 1980 to 1988, the Iranian nation stood in solidarity with the Iraqis fighting against Saddam, the speaker of the Iranian parliament added.
Larijani stated that the Iranian parliament is elected by the peoples' vote and is interested in having close ties with the Iraqi parliament.
He went on to say that the two countries have had constructive economic cooperation in recent years, and Iran hopes to enhance this collaboration in the near future.
Iran exports about 700 megawatts of electricity and over 2.5 million liters of gasoline to Iraq every day.
Larijani emphasized that the Iraqi parliament can play an important role in efforts to improve ties between the two countries.
He also asked Iraqi officials to make efforts to solve the problems of Iranians who visit the holy sites of Iraq.
In addition, the Iranian parliament speaker urged Iraqi officials to take the steps necessary to prevent severe dust storms like the ones that spread to Iran over the past year.
"The issue of dust storms is a regional problem, and the neighboring countries should cooperate in order to find a solution," he said and asked the Iraqi parliament to urge the prime minister's administration to take more effective steps to solve the problem.
Larijani also described the presence of members of an Iranian terrorist group in Iraq as harmful to Iran-Iraq relations.
According to international law, since these people are terrorists, they should be expelled from Iraq, he added.
"We thank the Iraqi government for its efforts so far, but ask the Iraqi government not to allow terrorists to stay permanently in our friendly neighboring country."