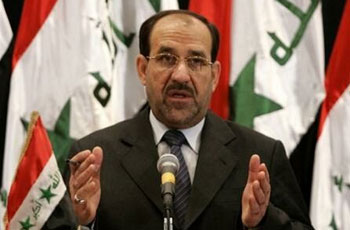 Iraqi Prime Minister Nuri al-Maliki voiced criticism on Friday of Turkish "interventions" in Iraqi affairs, warning that Turkey itself would suffer if its actions sparked conflict in the Middle East.
His remarks come amid a political row in Iraq, with authorities charging vice president Tareq al-Hashemi with running a death squad.
Turkish Prime Minister Recep Tayyip Erdogan expressed his concerns over the deadlock to Maliki in a telephone conversation this week.
Hashemi, who is currently holed up in Iraq's Kurdish region, has mooted the possibility of going to Turkey, even though officials have barred him from overseas travel.
"We… did not expect the way they (Turkey) interfere in Iraq," Maliki said in an interview with the Al-Hurra satellite television channel on Friday.
"Recently, we noticed their surprise interventions with statements, as if Iraq is controlled or run by them."
He continued: "Their latest statements interfered in domestic Iraqi affairs… and we do not allow that absolutely. If it is acceptable to talk about our judicial authority, then we can talk about theirs, and if they talk about our disputes, we can talk about theirs."
Maliki warned that "Turkey is playing a role that might bring disaster and civil war to the region, and Turkey itself will suffer because it has different sects and ethnicities."
Erdogan on Tuesday spoke to Maliki by telephone, voicing concern over Iraq's political stand-off.