Iraq
Iraq veteran killed in gunfight with police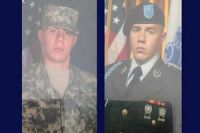 An Iraq veteran, who was killed in an armed standoff with police, was suffering from PTSD and was turned down by an overcrowded Veterans Affair hospital, Press TV reported.
Staff Sergeant Isaac Shawn Sims, 26, was shot by Kansas City police on Sunday after they answered a neighbor's 911 call of a man firing a gun from inside his parents' house.
Sims was suffering serious physical and mental problems when he sought help from Kansas City VA Medical Center, but was turned away by an overbooked Veterans Administration hospital, Kansas City News 5 reports.
"An eardrum had been blown out and he has 80 percent disability from brain injuries," said Patricia Sims, Isaac's mother.
Aside from the physical injuries, Sims had severe depression, migraines and post-traumatic stress disorder, all from seeing his friends and comrades die in combat.
"He had to pick up body parts, he had to move forward as if nothing happened," Patricia Sims said.
Sims was killed when he pointed his gun toward a SWAT team but family members said he was not a threat to the police.