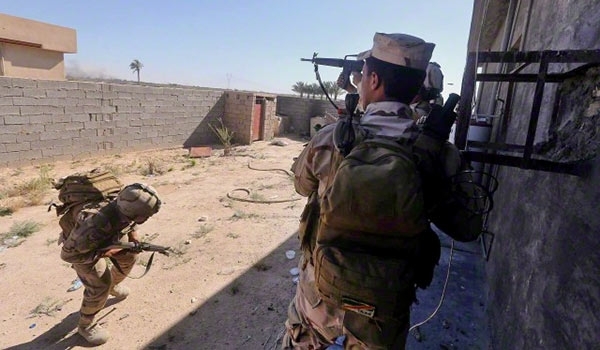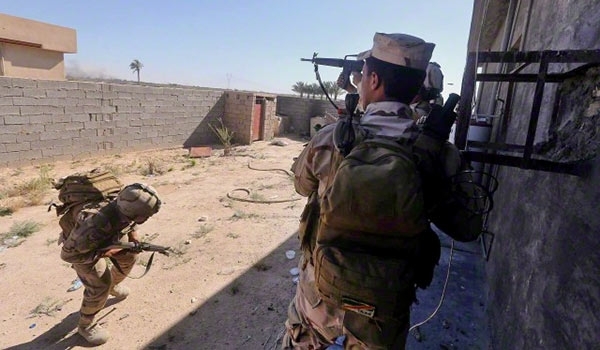 Artillery shelling by the Iraqi army on strongholds of the so-called 'Islamic State of Iraq and the Levant' (ISIL) Takfiri groups in the Western side of Ramadi in Anbar province left at least 15 terrorists killed and several more wounded.
"The artillery units of al-Jazeerah and al-Badiyah Operations Command shelled two gathering centers of the ISIL in the area of Albu Hayat in Haditha District (160 km West of Ramadi), killing over 15 militants," Commander of al-Jazeerah and al-Badiyah Operations Major General Ali Ibrahim Daboun announced.
The Iraqi air force also destroyed some positions of the ISIL Takfiri militants, and killed a group of the terrorists in al-Filahat and Albu Shajal areas in Ramadi, media reports said.
On Tuesday, the Iraqi defense ministry announced that massive offensives of the Iraqi army alongside the volunteer forces have forced the ISIL Takfiri terrorists to retreat from the Northern fronts of Ramadi.
"The Iraqi army with the support of Popular Mobilization Forces, arrived in the area of Albu Hais in Ramadi Island, in the Northern side of Ramadi city, after fierce battles against the ISIL terrorists, who are fleeing from the fighting area," the ministry said in a statement.
The ISIL Takfiri terrorists currently control shrinking swathes of Syria and Iraq. They have threatened all communities as they continue their atrocities in Iraq.
Senior Iraqi officials have blamed Saudi Arabia, Qatar, and some Persian Gulf Arab states for the growing terrorism in their country.
The ISIL has links with Saudi intelligence and is believed to be indirectly supported by the Israeli regime.