Iraq
Iraqi Army to Liberate Fallujah Soon with Minimal Losses: Prime Minister Al-Abadi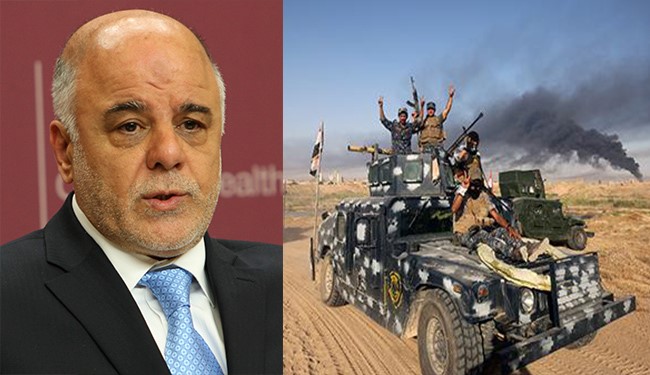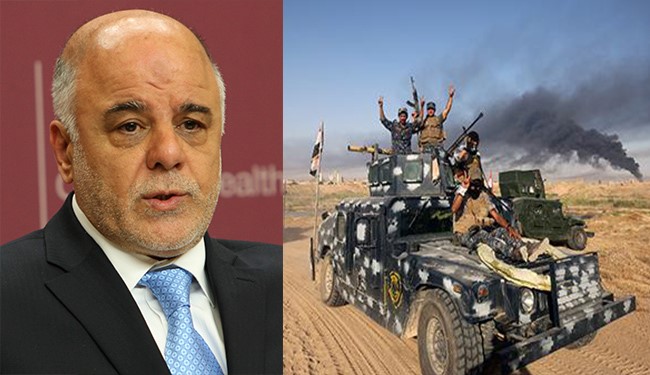 The Iraqi army has successfully completed the first and the second phases of the liberation battle of Fallujah from ISIS control, and the city will be liberated soon with minimal losses, Iraqi Prime Minister Haider al-Abadi announced.
During his meeting in the headquarters of Fallujah Liberation Operations, Haidar al-Abadi said, "The world is looking with admiration at the victories of the Iraqi security forces and the liberation of the usurped cities," adding that, "Our forces are achieving their goals as planned."
Abadi also pointed out to the need to exercise more efforts to protect the civilians and eliminate the presence of ISIS, reported by IraqiNews.
Abadi Urges Politicians to Unite behind Army
The Iraqi premier made the remarks during a visit to the frontline near Fallujah.
"I appeal (to the politicians) to freeze all differences until the land is freed," Abadi stated. "Daesh is the ultimate corruption and whoever prevents us from fighting Daesh is corrupt."
Reform Protests Continue
In recent weeks, hundreds of Iraqis have taken to the streets of Baghdad, calling for reforms. The protests defy Abadi's call to halt the weekly action as the military and allies gear up for retaking the key city.
Abadi has said that military forces backed by volunteer fighters battling for Fallujah will liberate the Daesh-held city in the course of next few days.
The Iraqi prime minister described the reduction of civilian and army casualties as the main goal of the ongoing military operations.
Abadi also said government forces dealt heavy blows to terrorists during clashes on Wednesday.
On May 23, the Iraqi military started a large-scale push to drive out the militants from Fallujah, located about 65 kilometers (40 miles) west of the capital.
They have already recaptured several towns and villages on the city's outskirts and managed to enter the city on May 30.
Even though the majority of Fallujah's population is believed to have fled during six months of siege, 50,000 people are still thought to be holed up with limited access to water, food or healthcare.
Fallujah is believed to be the base from which militants have staged a campaign of bombings in Baghdad.
Last December, Abadi pledged that 2016 would be the year of "final victory" against the militants, predicting the capture of their de facto capital, Mosul, in northern Iraq, Press TV reported.