Iraq
Middle East
Iraqi forces battling to mop up last Daesh pockets in Mosul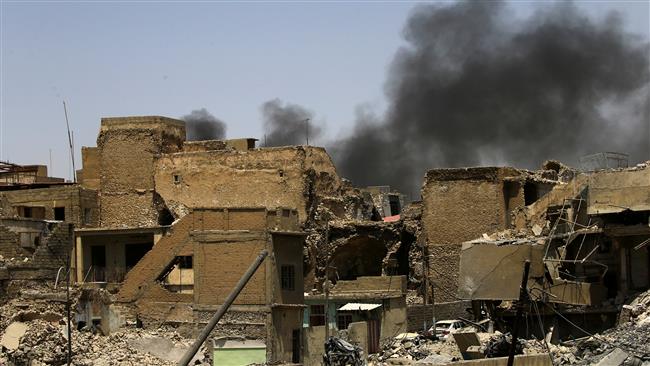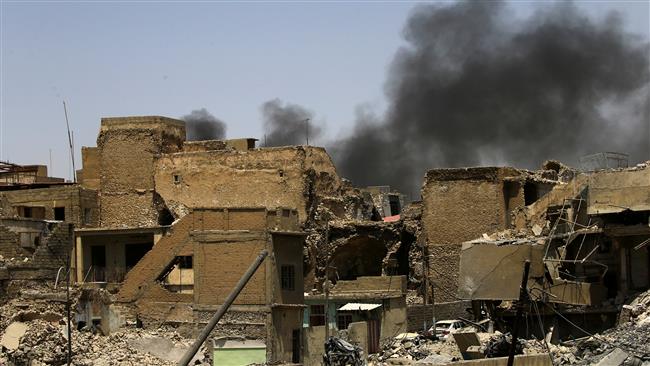 Iraqi government forces are fighting to eliminate the last pockets of Daesh resistance in Mosul's Old City, where the Takfiri terrorists are surrounded in a sliver of territory about 200 by 100 meters.
Lieutenant General Sami al-Aridhi of the elite Counter-Terrorism Service said on Monday that government troops are engaged in "heavy" fighting with the remnants of Daesh militants, but the battle is drawing up.
"They do not accept to surrender. But operations are in their final stages, and it is likely that (the fighting) will end today," the senior commander highlighted.
Aridhi went on to say that his forces had information that there were between 3,000 and 4,000 civilians in the area still held by Daesh members in Mosul's Old City.
The remarks came as the United Nations said 920,000 people fled their homes in Mosul amid fierce clashes between Iraqi government forces and Daesh terrorists there.
"It's a relief to know that the military campaign in Mosul is ending. The fighting may be over, but the humanitarian crisis is not," Lise Grande, the UN's humanitarian coordinator in Iraq, said in a statement.
The Office of the United Nations High Commissioner for Refugees (UNHCR) said on Monday that it could yake many months before civilians are able to return to their homes.
"It is likely that thousands of people may have to remain in displacement for months to come," UNHCR said in a statement.
The UN refugee agency noted, "Many have nothing to go back to due to extensive damage caused during the conflict, while key basic services such as water, electricity and other key infrastructure, including schools and hospitals, will need to be rebuilt or repaired."
Additionally, twenty-eight aid groups working in Iraq have issued a statement, calling for international support for reconstruction of Mosul and urged Iraqi authorities not to press civilians to return.
"Remaining insecurity; lack of basic services; explosive hazards contamination; and damage to homes, businesses and public infrastructure — including schools and hospitals — all continue to pose barriers to return," the statement signed by groups like the Norwegian Refugee Council, Oxfam and Save the Children read.
It also expressed deep concerns for Iraqis trapped in Daesh-controlled areas in Iraq, namely Tal Afar, Hawijah district in the oil-rich northern province of Kirkuk and the troubled western province of Anbar.
"For the expected offensives in Hawijah, Tal Afar and western Anbar, where approximately 150,000 civilians are thought to still be trapped, it is vital that lessons are learnt from past offensives," the aid groups said, demanding access to safety and assistance to be prioritized.
Iraqi army soldiers and volunteer fighters from the Popular Mobilization Units have made sweeping gains against Daesh since launching the Mosul operation on October 17, 2016.
The Iraqi forces took control of eastern Mosul in January after 100 days of fighting, and launched the battle in the west on February 19.
An estimated 862,000 people have been displaced from Mosul ever since the battle to retake the city began eight months ago. A total of 195,000 civilians have also returned, mainly to the liberated areas of eastern Mosul.
Daesh executes 7 Iraqi children west of Mosul
Members of the Daesh Takfiri militant group have reportedly executed seven Iraqi children west of Mosul as the terrorists continue to perpetrate various crimes against humanity in areas still under their control.
Jabbar al-Ma'mouri, a senior commander of the Popular Mobilization Units, commonly known by their Arabic name, Hashd al-Sha'abi, told Arabic-language al-Sumaria television network that Daesh extremists killed the victims in the city of Tal Afar, located 63 kilometers west of Mosul, and then hung their corpses from lampposts.
Ma'mouri noted the seven children were killed after their families attempted to flee Tal Afar, stressing that Daesh Takfiris have placed the city under curfew in the wake of a potential backlash from infuriated residents.