Iraq
Middle East
Iraqi forces enter al-Qaim in final offensive against Daesh: Military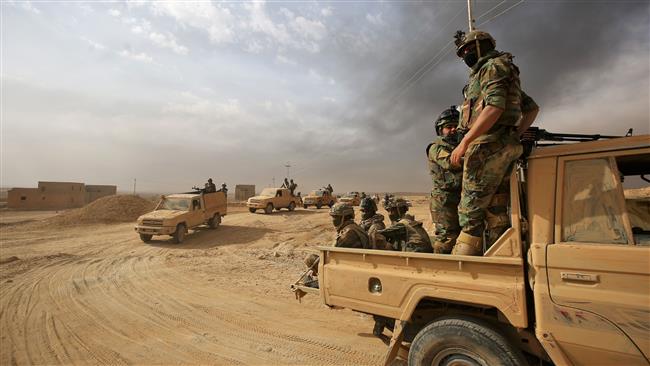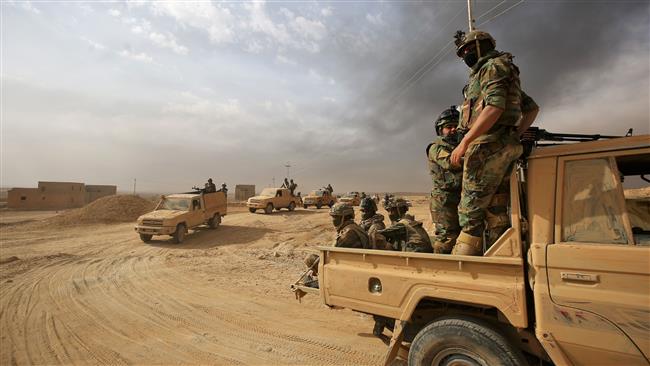 Iraqi forces have entered al-Qaim, one of the last remaining territories in the country still held by Daesh terrorists, in the country's western Anbar province, military commanders say.
Iraqi forces, backed by the air force, unleashed a barrage of artillery fire against Daesh positions inside the town early on Friday.
Troops from the Iraqi army and the elite Counter Terrorism Service "have started the assault on the centre of al-Qaim," Staff Major General Noman Abed al-Zobai, the commander of the 7th Division, said.
Speaking on condition of anonymity another officer said that the town's Gaza district was retaken from the militants.
"Counter Terrorism Service units and tribal fighters have liberated Gaza after violent clashes, leaving some terrorists dead, while others withdrew towards the centre of al-Qaim," he said.
Iraq's Popular Mobilization Forces (Hashd al-Sha'abi) said in a statement that terrorist had set fire to civilians' houses in the southwestern neighborhood to make it hard to see them from the air.
It also said that several Daesh members had fled across the border towards the Syrian town of Albu Kamal in the eastern Dayr al-Zawr Province.
According to, Hashd al-Sha'abi, Iraqi security forces retook a border crossing with Syria from Daesh.
The road, which runs through al-Qaim in Iraq and Albu Kamal in Syria, was recaptured earlier in the day.
Besides the army and Hashd al-Sha'abi, a force comprising mainly Shia volunteer forces, Counter-Terrorism Services and Sunni tribal forces are participating in the offensive to recapture al-Qaim and Rawa, two towns which lie on the border area with Syria.
Announcing the offensive last week, Iraqi Prime Minister Haider al-Abadi said "Daesh members have to choose between death and surrender."
The Takfiri terrorists swept through parts of northern and western Iraq in June 2014.
They then began a reign of terror across the captured areas, committing crimes against all ethnic and religious communities in Iraq, including Shias, Sunnis, Kurds, Christians and others.