Iraq
Iraqi forces, tribesmen fight against militants in Anbar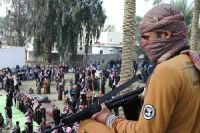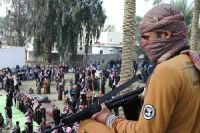 Iraqi security forces and local tribesmen have started a sweeping operation against militants linked to the al-Qaeda terrorist group in the western province of Anbar.
According to Press TV, gunmen from the Albu Assaf and Albu Ali tribes have entered the city of Ramadi to help security forces clear the city of militants.
Reports said al-Qaeda-linked militants controlled parts of the city of Fallujah.
Witnesses noted that armed militants have set up checkpoints in central and south Fallujah, and were patrolling streets of the flashpoint city's east — chanting slogans in support of al-Qaeda and the so-called Islamic State of Iraq and the Levant (ISIL).
Some reports also suggested that a major militant leader, Hassan Abu Dagdash, has been killed in clashes with Iraqi forces.
On Wednesday, militants and government forces clashed in Ramadi, with militants burning four police stations.
In Fallujah, militants torched some police stations and freed more than 100 prisoners.