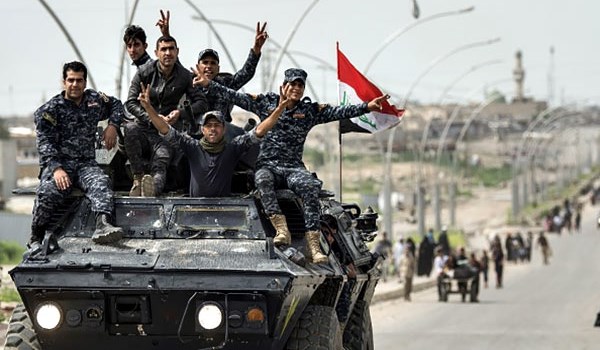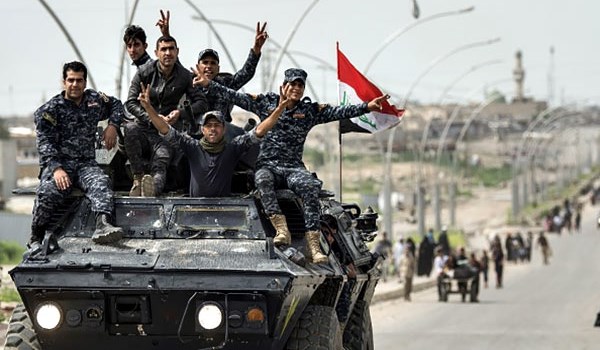 The Iraqi Army troops and the country's volunteer forces of Hashd al-Shaabi managed to advance against ISIL terrorists in two flanks on Tuesday, and took control of a strategic road that connects the cities of Mosul and Tal Afar to each other.
The Iraqi soldiers and Hashd al-Shaabi drove ISIL out of the villages of Toumi and Majarin East of Tal Afar after hours of clashes with terrorists.
The Iraqi government forces, meantime, pushed ISIL back from the villages of Rahal, Jabarh, Hossein Idris, al-Mala and al-Majid Southwest of Tal Afar.
Hashed al-Shaabi announced that the Iraqi government forces took control over Mosul-Tal Afar road after they laid siege on al-Mahlabiyeh region and following their advances against ISIL in the Eastern and Southwestern directions of Tal Afar.
Chief of the Iraqi Federal Police Shaker Jowdat said on Monday that the Iraqi army, backed up by Hashd al-Shaabi, pushed ISIL back from several villages on the second day of their operation to liberate Tal Afar city in Northwestern Iraq.
Major General Shaker Jowdat said that the Iraqi forces, supported by Hashd al-Shaabi, imposed control over the strategic villages of Molla Jasem and Abrah Aziz West of Tal Afar, killing 20 terrorists in the clashes.
He further said that the Iraqi forces managed to advance towards al-Kafah, al-Wahda and al-Sa'ad regions, taking control over a network of tunnels used by ISIL as a control and training center.
Jowdat went on to say that the Iraqi pro-government forces drove ISIL out of the village of Mohsen al-Abadi West of Tal Afar and advanced towards the villages of Tarmi and al-Ayaz, adding that the Iraqi forces further engaged in tough battle with ISIL and imposed control over the two villages of Halaweh and Abu Shakeh East of al-Mahlabiyeh.